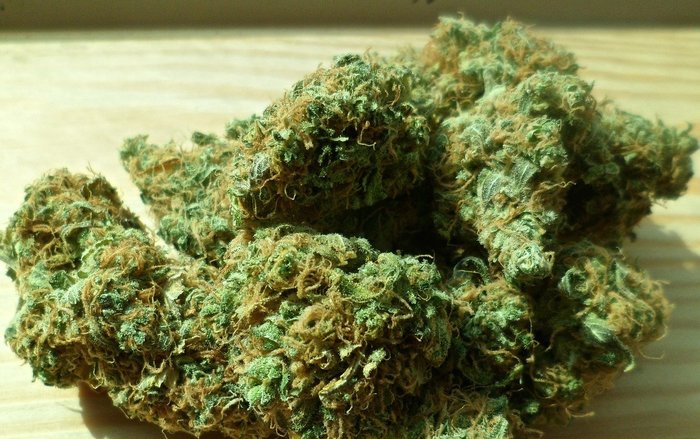 The only thing better than medical marijuana is cheap medical marijuana. Lucky for those of us living in Colorado, there are hundreds of dispensaries to choose from in just about every city. I mean, we have more pot shops than we have Starbucks or McDonald's restaurants, which is incredible on its own. However, unlike Starbucks and McDonalds, not all dispensaries are created equal. There's good weed and there's sub-par weed, just like there's overpriced weed and under-priced weed. If you're trying to find the cheapest 1/8th in your state, here's what you need to know about finding the cheapest weed deals from the best dispensaries in Colorado. Let's dive in:
First thing's first:
The average price of medical marijuana in Denver is around $25-$35 an 1/8th, and between $40 and $50 for a quarter ounce.
Keep in mind that while these averages are close to the industry standard, medical weed may be cheaper down in Colorado Springs or in a smaller town. It all depends on where you live. Denver prices are typically a bit higher than most other cities, but that doesn't mean you won't be able to find a cheap 1/8th. The savvy stoner knows that it's easy to get a better deal than anything close to the average, even in Denver, because there are always coupons and specials going on at the med shops across the state. There are a few tricks you can use to save money and your valuable time if you're searching for the cheapest eighth in Colorado, and here's how to do it — no matter where you are in Colorado — step-by-step.
Step 1: Know the Average
The first thing you want to do is get a really good idea about the average price of weed for where you live. The Denver average may mean very little to you if you live in a place like Monument, where the population is small. No matter what city you're from or what city you're visiting, be sure you know the averages if you want to buy some weed. You can find this information by checking out local dispensaries and price checking or checking out their websites and menus. However, most menus aren't always accurate, as prices typically pertain to the average visitor, and they won't include the discounts designed for first-timers. Most dispensaries in Colorado offer deals like these to attract new business and to keep customers coming back. If you're really looking for an indication about what weed will cost you, be sure to check out our coupon finder. The good news is that with tools like Leafbuyer's dispensary and coupon finder you can find the cheapest amount of weed in the state. Thanks to our wonderful coupon and dispensary finder, it'll be easier to find an average based on the first time specials in your area, or whichever area you're planning to visit. The listings on our website show full-time deals, first timer deals, and monthly specials designed to save you money.
Step 2: Use Coupons
Your second step, of course, is to find and use coupons for your marijuana. The free coupons found on Leafbuyer are printable as well as scannable on a mobile device, which makes it easier for you and for the budtenders at the dispensary you chose to give you some meds. As I write this, we have over 7 thousand coupons available, which comes to a grand total of $4,194,407 in consumer savings. These deals are hot, especially if you're looking to save up to 80% on an 1/8th of flower. You can sort by your location and everything within a certain mile radius, distance, price, ounce of flower specials, and of course by medical or recreational shops. If you're looking for the best marijuana dispensaries with the cheapest weed, use Leafbuyer's coupon finder. If you find a match you want to check out, click on the deal and you can open a new window which will allow you to print it, so you can bring it into your budtender at whichever dispensary you chose. If you like a deal, be sure to check out the dispensary's profile page where you can easily browse all of their available coupons, website, and social media profiles. It's really that simple. See, Print, and Save.
Step 3: Check Websites
After you've looked into specific deals and dispensaries and you know your city's averages, you should do a bit more research just to be sure. After selecting the coupon and the dispensary you'd like to look into, you should always check the dispensary's profile so you can research further via the website or the dispensary's social media profiles.
Using these links you can take a look at what is currently going on in the dispensary, such as strain specific information, daily or manager's specials, and more. A website is a great tool and something to look at if you're curious about promotional coupons as well as information on the store, such as whether or not flower is grown in-house, what the company culture is like, how their reviews look, and member perks, in case you wanted to stick around longer. You can also use these profiles and the website to find more ways to save, like penny joints, buy-one-get-one deals, and discounts that only take place on certain days of the week (think Shatter-day!). You can usually take advantage of these deals as well as coupons that you find through Leafbuyer. Consider it the ability to rack up additional savings on cheap weed.
Step 4: Buy More, Save More
While we were talking about small amounts of weed, it's important to keep in mind that when it comes to buying weed, the more you buy the more you'll save. That's why weed is different than other commodities like groceries, gasoline, and most other things. Finding a cheap 1/8th is great, but if you know you're going to need marijuana, why not just buy more? You'll be saving more money, and if you're worried about your weed losing freshness, you can always use the money you save to buy a couple of good, glass jars. The best way to get weed at the cheapest price is to buy larger amounts, like ounces, rather than grams or 1/8ths. For example, a gram of weed in Denver costs on average around $8 to $12, but you can pick up an ounce for as low as $100 at the right pot shop, and if you know your weights, you know that an ounce is 28 grams. That can bring the price down to about $3 per gram, which is by far a better bang for your buck. If you can afford to get a full ounce at once, you should definitely go for it. There are plenty of deals for small amounts of weed, but by far more deals on larger amounts of weed.
The coolest part about buying cheap weed is that you won't feel bad for smoking a little more when you need it. Saving money on weed means that you can spend money on more weed. Essentially, you'll be able to get marijuana all the time without feeling guilty about spending money.
Leafbuyer is the best and most well-known resource for saving you money on weed, so be sure to sign up for our mailing list! You'll never miss a great deal on weed in your area again.