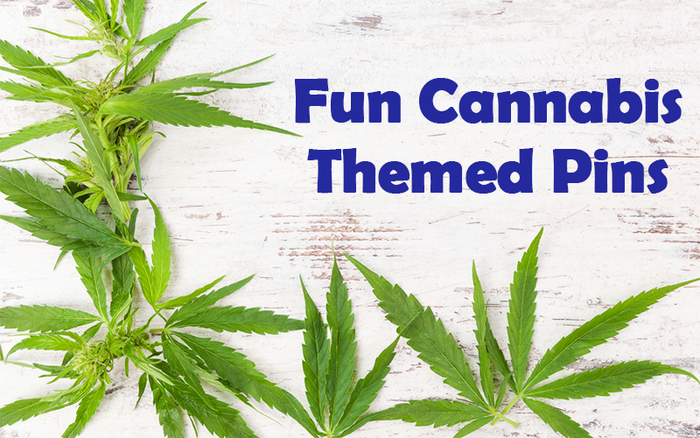 Chances are, if you've gone to any music festivals or wandered into any dispensaries lately, you've noticed people wearing enamel pins. They go on hats, lanyards, and look especially trendy on jean jackets.
Pins are making a comeback in a big way. Brooches used to be a commonplace fashion accessory, so it's no real surprise to see smaller versions back in the mainstream; fashion trends cycle through quite often. This is evidenced by mom jeans, overalls, leather jackets, chokers, plaid, and combat boots. We see things coming in and out of style constantly, including the art of the pin.
Similar to charm bracelets, pins are essentially a way to brag about all the nifty things you're into. Do you love pizza? There's a pin (thousands) for that. Are typewriters your thing? There's a definite niche. Do you get your kicks from tiny enamel guitars? Well, kick away.
Luckily for weed-lovers, there are tons of cool weed pins on the market, waiting to be found and worn proudly. Collect 'em like you would your favorite strains. Check out these neat cannabis-themed designs.
Sea Weed Pins
Who doesn't love a good pun? These bad boys are a play-on-pins by artist Penelope Gazin. When you wear these, you're ultimately ready for beach season, complete with breezy waves and a packed joint of your favorite strains. Tack them onto your hat or summer bag for an ode to the ocean.
Romantic Bong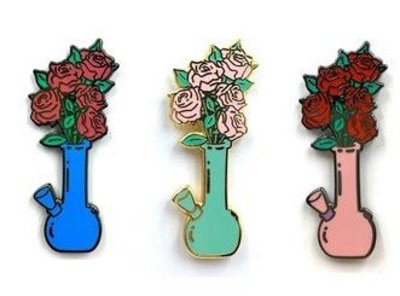 Penelope Gazin is back again, this time with an artistic dedication to flowering bongs. There's an abrupt elegance to this pin, which pops with pastel color and juxtaposes the natural and glass beauty. Like they say: water your flowers and they will grow.
Best Buds Pins
Friendship bracelets are a thing of a past—a little played out. Friendship pins, however, are up and coming. Show your cannabis-loving bestie how much you appreciate them by splitting up this set. Whether they are the "best" or the "buds" wearer, one thing can't be denied: the two of you are destined for a lifetime of good vibes and better companionship. Artist: craftycalaverita on Etsy.
420 Watch
With this pin, made by Etsy's GoodDopeSupplyCo, it's always 420 somewhere. While the hands of the watch are clearly set to a specific time, this accessory is still discreet enough to wear without drawing too much extra attention. Whenever your family member asks, you can just reply that you are a lover of the concept of time as a construct of reality and go into a lengthy monologue about the human condition. They will likely never ask again.
Enjoy THC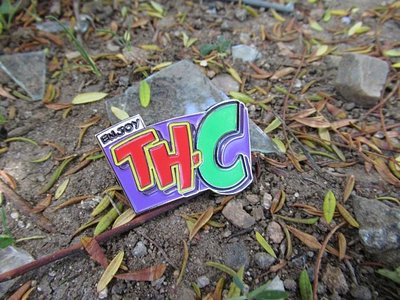 A childhood filled with Hi-C was a good one. This pin is an ultimate throwback and present day tie into good times and chill vibes pulled together with bright colors and epic nostalgia. That classically sweet juice has been replaced with the healing highs provided by THC. This pin, sold by wazhappinin on Etsy, is an ode to the good days—both back in the day and now.
Sour Lemon Diesel
If one of your favorite cannabis strains is sour lemon diesel, you're in luck. Get your hit of sour d by proudly pinning this piece of art, which also acts as a discreet shout out to the world of marijuana. Good luck deciphering that, if you're not in the know. With this creative pin, the buzz-worthy secret is yours to keep. PinnerzOnline keeps it real with their enamel designs. Other strain allusions include the cherry pie pin, 707 pin, and gorilla glue pin.
Clone Wars 
Nerds rejoice: Starwars and cannabis have finally done the epic crossover you've always hoped and dreamed and wished for in all of your galactic highs. Now, get the spirit of a galaxy far, far, away right up close and personal with this "clone wars" pin. While celebrating a wonderful franchise, this pin (created by Etsy's GoldThumbPins) also recognizes the rigor associated with growing marijuana. With this pin, it's a simple win.
10 mg Gummy Bear
Edible gummies are a godsend, and this pin knows it. Show your support of your fav THC or CBD gummy bears with this bold red lapel display, loud and proud. It's cute, informative, helpfully labeled, and just wholesome cannabis-related content. Thanks, BortsPinEmporium, for making a pin we very much wish we could eat.
THC Equation Pin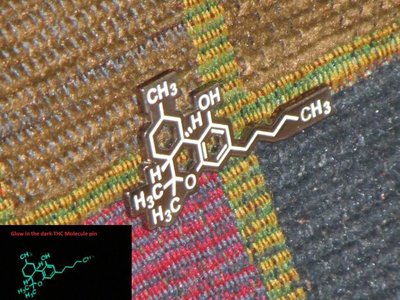 Yay for science! Weed isn't usually associated with high-powered brain activity, but it should! Thanks to the endocannabinoid system, cells within the plant are chemically involved with cells within the human body: this is a scientific gold mine, and this pin celebrates the nuances thoughtfully with an ode to THC. Though you need to ingest actual THC to get a mind-altering high, this pin pretty much delivers the next best thing—a buzz of knowledge, happiness, and trendy activism. Artist RhiaGypsyVintagePins knows their stuff.
Look to Leafbuyer for up-to-date news on more recycling trends and fashions within the cannabis industry. Will the Grateful Dead be next on the comeback cycle? Check back in to find out.