If you haven't heard, Florida is set to expand the state's current, rather limiting and arduous, medical marijuana program. Following the 2016 passage of Florida Amendment 2, or the Florida Medical Marijuana Legalization Act, the state has further entrenched itself, in service of the public, into the medical cannabis industry — both to extend and provide clarity on the rights granted by the Compassionate Use of Low-THC and Medical Cannabis Act of 2014. The passage of the ballot initiative, therefore, leaves many of us wondering:
Just how potent will medical weed be in Florida?
The Low-Down on Florida's Low-THC Medical Cannabis
With a name like the "Compassionate Use of Low-THC and Medical Cannabis Act", potency is a legitimate concern. Within Florida's limited legal medical marijuana industry, "Low-THC" cannabis is defined as containing 0.8% or less of THC and containing 10% or more CBD.
While there continue to be many wonderful things that we continue to discover regarding CBD, the therapeutic effects of cannabis are not designated only to the non-psychoactive plant components. In fact, one of the truly amazing fixtures that the medical marijuana industry swings from is the multiplicity of health benefits it casts.
Determining how potent Florida medical weed will be is not only a qualifying factor to successful treatment outcomes for patients in the region, it is paramount to the larger understanding of the effects of cannabis on the human body and mind.
Under the 2014 Compassionate Use Act, access to high-THC cannabis in Florida had been largely shunted, only offered to those whom are living with a terminal prognosis of 1 year or less, only after they have had two doctors recommend them, but only after three months of direct care from the recommending physician and written patient consent.
As if those conditions weren't already unreasonable, the limitations on access to low-THC cannabis under the Compassionate Use Act make the program seem less like a medical option and more like time burden. Medical weed in Florida may be potent in CBD, but in order for a patient to be eligible, they must also receive three months worth of care from the recommending doctor prior to registration in the state compassionate use registry.
You can't grow at home, but patients can have caregivers — assuming they register with the state. Patients may have cancer or "a physical medical condition that chronically produces symptoms of seizures or severe and persistent muscle spasms" and are not permitted to smoke or vaporize the medical products.
By requiring the physician to place the order for medicine rather than just the recommendation for marijuana, the state additionally requires doctors to formally break federal law. Anyone who can prescribe medicines in the US is required to be registered with the DEA, a federal body that interprets marijuana as an illegal drug. This very situation narrows the availability of prescribers willing to help.
High Hopes in the Sunshine State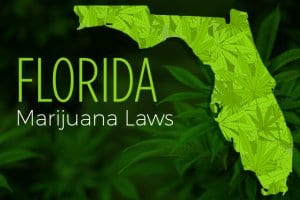 In the years since the Compassionate Use initiative was signed into law, only seven providers of marijuana have been issue licenses to sell and distribute cannabis products to qualifying patients. Seven places, serving a total population of over 19 million, don't just communicate scarcity, it remarks on a situation that is both fueling the black market and preventing many legitimate patients from receiving legal treatment.
The sunshine state, having leveraged the medical marijuana industry into the precarious "low-THC" delegation, have seen the passage of Amendment 2 in 2016 as a possible kick-start to the state medical marijuana industry. Viewing cannabis as an industry (a legal one) and as a medicine are two things still pretty new to the US, though the industry has proven nascent in states around the country.
The burdensome requirements for both doctors and patients in Florida still exist to some degree under the new amendment, but, in general, they have been dispelled from the frustrating and unnecessary to rules more in-line with what many other medical states are already doing.
Within this voter-backed expansion, how potent Florida medical weed fails to be the limiting factor in who has access. Instead, this iteration sought to expand the category of ailments that allow a person access to high-THC cannabis from only those with terminal illness to include the following debilitating medical conditions:
Cancer

Epilepsy

Glaucoma

+ Human immunodeficiency virus (HIV)

+ Acquired immune deficiency syndrome (AIDS)

Post-traumatic stress disorder (PTSD)

Amyotrophic lateral sclerosis (ALS)

Crohn's disease

Parkinson's disease

Multiple sclerosis
or "other debilitating medical conditions of the same kind or class as or comparable to those enumerated, and for which a physician believes that the medical use of marijuana would likely outweigh the potential health risks for a patient". Read the full amendment text here (it's only a few pages).
As you can tell, this is a massive shift in the dynamic of Florida's medical marijuana laws. If that wasn't enough, under the new law, medical patients are now permitted to possess and use limited amounts of cannabis without fear of prosecution (limits to be decided by the Florida Department of Health).
With all these changes, the rule on home growing remains unchanged. In terms of getting the most THC potent medical weed in Florida, patients are still subject to patience while state regulators and rule makers craft the regulatory details, which is currently expected to be completed around June 2017, though the amendment failed to specify a date.
As of January 3rd, 2017 — when the law was officially enacted — patients can possess and consume cannabis products, including smoking or vaporizing which were previously prohibited. This includes all the goodies: concentrates, edibles, tinctures, dabs, wax, spliffs, and topicals, leaving me wondering just what's next for the Sunshine State.