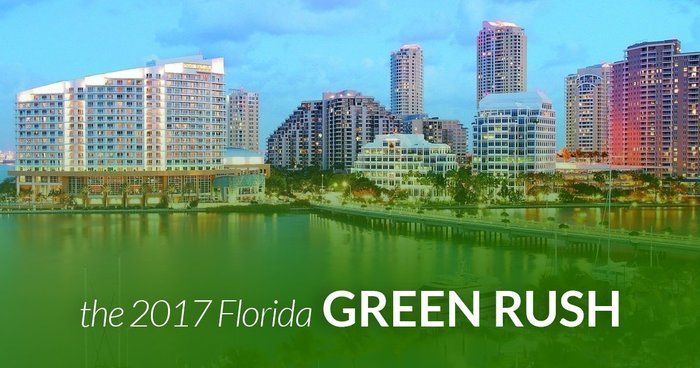 On November 8th, 2016 Florida finally passed amendment two, also known as The Florida Medical Marijuana Legalization Initiative. This measure allowed for an expansive medical marijuana program to take effect in the sunshine state. As I am originally from Florida, I was delighted when I initially heard the measure had passed. A medical marijuana program is huge news for Florida, and it's been exciting over the past few months to hear any news at all, The Health Department was given 3 months to establish a medical marijuana program, and up to 9 months to begin opening dispensaries in Florida, but lucky for the Floridians, the health department was ready for this
How Did Medical Marijuana Pass in Florida?
Before The Florida Medical Marijuana Legalization Initiative was passed, there was already a very basic medical marijuana program in place. Basically, there were only a very small amount of qualifying conditions, and the only treatment available was CBD oil. It had to be administered at a hospital, and no dispensaries could exist or operate in the state. Very few people were benefiting from this program, and Florida wasn't feeling the financial benefits, either.
On November 8th, 2016, Florida passed amendment 2 with a 71% majority vote. Amendment two allows for any Florida dispensary to be owned and operated, as well as more marijuana products available to cover a much larger variety of conditions. This measure emulates Colorado's initial medical marijuana program. The initiative amends the Florida constitution by allowing the use of medical marijuana for people that have conditions deemed debilitating by a licensed Florida physician. It also allows other people to help the consumers use the marijuana, like parents, children, nurses, and other caregivers.
Word-for-word, Amendment 2 states the following:
"Allows medical use of marijuana for individuals with debilitating medical conditions as determined by a licensed Florida physician. Allows caregivers to assist medical marijuana cardholders' use of marijuana. The Department of Health shall register and regulate centers that produce and distribute marijuana for medical purposes and shall issue identification cards to consumers and caregivers. Applies only to Florida law. Does not immunize violations of federal law or any non-medical use, possession or production of marijuana." Allows for Medical Marijuana Treatment Centers to be registered by the Department of Health."
Who Qualifies and What Are the Laws?
This program is designed to put the doctors in control. The Health Department outlined a few health problems that automatically qualify for medical marijuana, but ultimately the doctors will have the power to decide if an ailment qualifies. It isn't designed to cover just about everything like the laws we have in place here in Colorado, but it's a start. If anything, shifting the power in the direction of cannabis friendly doctors will be a good thing for the residents of Florida, especially since it's a state with so many retirees with long-term, chronic ailments.
The qualifying conditions as outlined by the Florida health department in amendment two can be found here. Keep in mind though that more and more conditions will qualify with a doctor's referral. Any disease or ailment the doctors see as related to those below, or are considered debilitating by the doctors will be allowed to receive medical weed as treatment. If the doctor feels that the potential risks of smoking marijuana are tiny in comparison to the benefits the medical marijuana cardholder will receive if they choose to medicate with cannabis, they will qualify for medical marijuana in Florida.
So What's the ETA for Florida Dispensaries?
As it currently stands, there are over 200 licensed doctors in Florida who are qualified to prescribe medical marijuana. Patients are eagerly waiting to see the doctor's and get the help they need. On January 3rd, Amendment Two officially rolled out in the sunshine state, and 5 dispensaries have opened.
Since the state gave most of the power to practicing doctors to prescribe marijuana, Florida doesn't expect to see as many dispensaries as we have here in Colorado, for example, more dispensaries than McDonald's and Starbucks. The doctors will prescribe the marijuana and cardholdes or caregivers will head to one of these 5 dispensaries to pick up their meds for the time being. At the moment, supply is very limited. Amendment two doesn't say anything about whether or not cannabis flowers will be able to be purchased and consumed, so for the time being, people are sticking to tinctures, topicals, and oils.
The dispensaries are found in Tallahassee, Winter Garden (Orlando), Miami, and Clearwater.
What are the Florida Dispensaries About to Open?
CHT is one of the first medical marijuana dispensaries to open in Florida. Here's what they had to say about themselves:
CHT Medical's founding team originally began their work in the Horticulture and plant nursery business with their parent company, Chestnut Hill Tree Farm. Founded in 1981, Chestnut Hill Tree Farm boasts over 35 years of growing, cultivating and researching hundreds of plant varieties, including exotic trees, herbs, shrubs and many others not native to Florida. Chestnut Hill Tree Farm closely works with the University of Florida, to develop new fruit and other plant varieties to create exciting and new plants. The CHT Medical branch in Tallahassee builds on their foundation of established success, pairing their expert growing techniques, breeding and cultivation experience to deliver high-quality and innovative cannabis medicines to their patients consistently.
Trulieve was the first dispensary to open in Florida. Here's what they had to say about themselves:
The founders of Trulieve came together with an extensive history working in the nursery and healthcare fields. During that time, they saw a statewide need for alternative forms of healing. Typical medicine and pharmaceutical options just didn't work for all patients. Dedicated to providing empathetic and compassionate care for all patients, no matter the illness or circumstance, they decided to enter the field of medical marijuana.

Trulieve is the first dispensary to be granted a medical marijuana license in the state of Florida. They are approved by the Department of Health of Florida to legally sell Low-THC Cannabis and Medical Cannabis to patients who have visited a qualified medical marijuana doctor. Opening their first clinic in Tallahassee in July 25th, 2016, their Clearwater location soon followed on August 16th, 2016. Since opening their doors to the entire state of Florida, they have steadily increased the number of patients they help as they have expanded to more locations.
Trulieve also has a second location in Tallahassee, Florida.
Here's what they had to say about themselves:
Knox Medical sprouted from family owned business Knox Nursery, a thriving plant nursery business that covers more than twenty acres of production and deeply connects with their community. Carrying on their mantle of hard work, quality products, and premier customer care, Knox Nursery saw an opportunity to help patients suffering from qualifying illnesses when Florida recently passed its Medical Marijuana Act. After applying to the state, Knox Medical was granted one of a handful of dispensary licenses to process, cultivate, and dispense medical cannabis products starting in 2016. Assembling a Winter Garden team of cannabis experts in the medical marijuana field, Knox Medical dedicates their work to achieving the highest results for patients in Florida who deserve an improved quality of life.
Here's what they had to say about themselves:
Modern Health Concepts in Miami strives to be the most scientifically advanced resource in medical cannabis, providing a trusted resource for all things regarding medical marijuana research, education, advocacy, and compassion. Founded and led by a team of pharmacists, doctors, and medical experts, Modern Health Concepts creates and develops innovative, safe and efficient medical marijuana products for their patients.