Looking for the Best Pot Brownie Recipes? Look No Further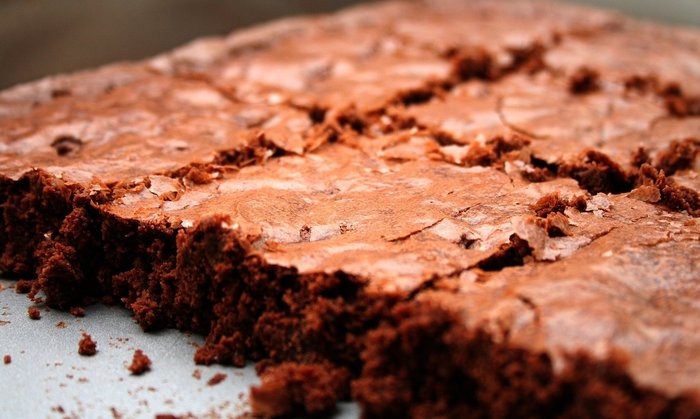 Your edible spirit guide is back, and this time I'm focusing entirely on pot brownie recipes. Nothing in this world goes better with weed than brownies, and I have tried so many recipes in search of finding the best one. The truth is, there is no such thing as a perfect pot brownie recipe. But if you're anything like me, you probably haven't met a single pan of brownies you couldn't utterly destroy. However, there are some that I've liked better than others, and here they are, my top three.
And remember; it's hard to figure out dosing, so tread carefully with how much cannabutter you're using and how many portions you're dividing your brownies into.
The Beautifully Simple Recipe
The number one favorite on my weed brownie recipe list of favorites comes to me from The Cannabist, which is a great resource for pretty much everything weed culture, news, and recipes. This pot brownie recipe is super simple, which is why it's a favorite and an all-around crowd pleaser. Whether you're new to the art of edibles entirely, or you're already stoned, you should have no problem reproducing this pot brownie recipe.
What you'll need:
Your favorite box of brownie mix
Eggs
Water
Cannabutter or Canna-oil, which you learn to make here
To make it happen:
Prepare the brownie batter according to the directions on the box, but substitute regular butter or oil with the cannabutter or canna-oil.
If your recipe calls for oil but you want to use butter, go for it. You'll need to bake them for two minutes longer, but they taste just as good! Make sure you melt the butter, as it must be the exact same amount as the oil it calls for.
You can also substitute cannabutter for only a portion of the butter the recipe calls for, and use regular butter or oil for the rest.
The Very Tasty Recipe
My second favorite pot brownie recipe tastes like home, and I've made this recipe at least ten times since I originally discovered it. They call it Grandma's Classic Brownies, and it's to die for. These are at the very top of my favorite "from scratch" weed brownie recipes list.
What you'll need:
4 squares of unsweetened bakers' chocolate
¾ cup cannabutter
2 cups of regular sugar
3 large eggs
1 teaspoon pure vanilla extract
1 cup of flour
1 cup of crushed walnuts (optional, but recommended)
To make it happen:
Preheat the oven to 350
Melt chocolate and cannabutter. If you want to use a saucepan instead of a microwave, be sure to use a double boiler. If you burn the chocolate, you're going to be super sad.
Stir in sugar, vanilla, and eggs.
Add your flour and nuts
Spread into a greased 9″X13″ pan, and bake at 350 for 35 minutes.
The Tasty and Simple Recipe
These are so great. Cooking is therapeutic for me anyway, but these really make a difference. Nothing like a little chocolate therapy when you're super stressed out. If you like s'mores and weed, you'll love this pot brownie recipe. Created, tried, and loved by yours truly.
What you'll need:
Any box of brownie mix. I like to stick with regular milk chocolate because super chocolate fudge is too rich. Feel free to experiment!
Graham crackers (usually 5 or 6 will do)
Mini marshmallows
A couple bars of milk chocolate. I use Hershey's with almonds most of the time, but any milk chocolate will do.
I sometimes like to add peanut butter chips, or butterscotch chips, and sometimes almonds or walnuts, but these toppings are optional.
To make it happen:
Preheat oven according to box instructions and prepare brownie mix as described, substituting butter or oil for cannabutter or canna-oil.
Break the graham crackers and chocolate bars and set them aside in a bowl. Add marshmallows and any other toppings you prefer.
Bake the brownies for about 15 minutes, and remove from oven
Sprinkle the bowl of graham crackers, chocolate, and marshmallows evenly on top of the half-baked brownies and return to the oven.
Continue baking for 15-20 minutes.
These are my top three favorite weed brownie recipes. They all have their pros and cons of course, but overall, these 3 recipes are the best. Always feel free to explore them on your own and try new things. A bad brownie is still a pretty good brownie (as long as you don't overdo it with the cannabutter) after everything's said and done. Maybe you'll come up with one of my next favorite pot brownie recipes.
By Nicole Flanigan
Disclaimer: All information on this site is for reference purposes only. Leafbuyer is not responsible for the outcome of any recipe you try from the Website, or any website linked to from this site. You may not achieve desired results due to variations in elements such as ingredients, cooking temperatures, typos, errors, omissions, ingredient quality/potency, or individual cooking ability. Recipes available on the Website may not have been formally tested by us or for us and we do not provide any assurances nor accept any responsibility or liability with regard to their originality, quality, nutritional value, or safety. The cannabis amounts specified in this recipe are a loose suggestion. You should adjust the amount based on desired potency and the strength of your cannabis.