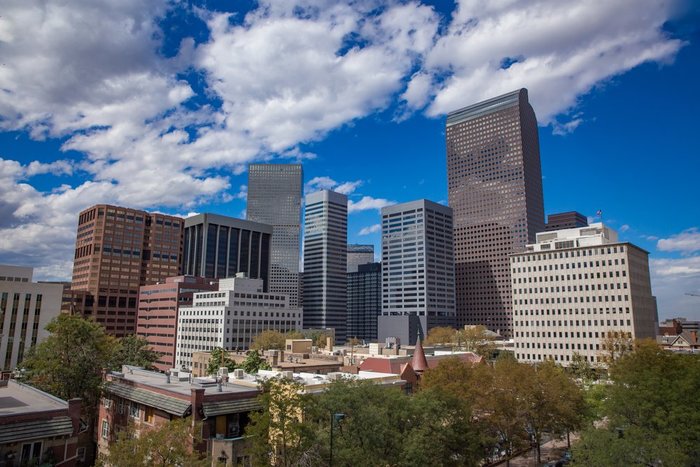 There are so many reasons to visit Denver, Colorado. It's big enough to be exciting, yet small enough to feel safe and comfortable. It's artistic, trendy, and diverse, with enough attractions to satisfy sports fans, musicians, artists, foodies, and anyone in between.
Recreational marijuana is an additional draw, though it's far from the only reason tourists flood the area. Weed is complementary to everything else the city has to offer.
Check out these heart-of-the-city attractions, paired with some favorite dispensaries in downtown Denver.
Check out: 16
th
 Street Mall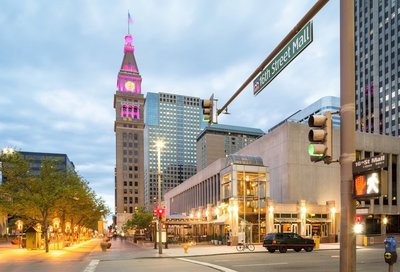 One of Denver's busiest areas is the 16th Street Mall, which spans the entirety of a city street. Cars (not including buses, so watch out) are not allowed, which makes for easy walking and gawking. And yes, there happens to be a lot to admire: street performers (including the famous Robot Mike, known for performing his robot antics up and down the street for years), buskers, commuters, and busy shoppers are hustling and bustling. It's easy to catch a free lift on the Mall Ride, which goes from Union Station to the shops like clothing stores, a movie theater, a book store, coffee shops, and several restaurants. Cruising 16th Street is a Denver rite of passage, since it usually includes experiencing the city's most eccentric and wild personalities, mixed with good, old fashioned consumerism.
Nearby dispensary: Euflora
The downtown Denver dispensary Euflora is centrally located for all your city weed needs. It's on the same street as the mall, and conveniently has everything necessary for a good time: high THC-strains, CBD products, and top-quality edibles, all ready for consumption.
Check out: Larimer Square
Lights, camera, Larimer. Larimer Square, though not far from the bustle of 16th Street, is like a magical land of twinkling lights and endless prosperity. This street has shopping, restaurants, bars, and late-night entertainment, not to mention festive decorations and an air of exclusivity. While wandering through the square, stop in the Market for a macaroon, TimBuk2 for a bag to hold your stash, Comedy Works for a 21-plus show, or Al's Barbershop for a fresh trim. You'll simultaneously feel like a local and a celebrity, and understand why "boujee" firmly applies.
Nearby dispensary: Native Roots
It might be a little bit of a trek, but Native Roots is worth the walk. After feeling the glamour of Larimer Square, treat yourself to some top-shelf flower strains at this downtown Denver dispensary that's known for its diverse menu.

Check out: Coors Field
A trip to Denver isn't complete without stopping by the ballpark district, also known as LoDo (lower downtown). This can mean a few things: catching a game, getting caught up in the neighborhood's lively nightlife, or a healthy mix of both. Coors Light is poured like water at the stadium, which can make an evening filled with the Colorado Rockies an exciting and worthy splurge. After the game, which will likely be filled with gorgeous sunsets, overpriced hot dogs, fun mascot races, and a rousing seventh inning stretch, the nearby clubs, bars, and breweries come to life. Whether visitors dance the night away at the nearby piano bar Howl at the Moon or sample every beer on tap at Wynkoop, fun is sure to be had by all.
Nearby dispensary: Ballpark Holistic Dispensary
LoDo is blessed with many nearby dispensaries in downtown Denver, since the area has such an active social atmosphere. One of the city's best and brightest, Ballpark Holistic Dispensary, is aptly named, and more than happy to serve customers over the age of 21 their post-game kicks. Perks: it's close, it's award-winning, and they offer a ton of deals and specials.  
Check out: Union Station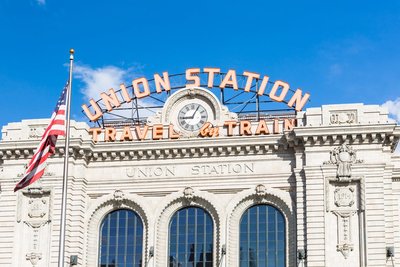 Union Station is more than just a public transportation center. This busy depot is a hub of many things: the light rail system, the airport train, the Mall Ride, nearby business men and women, and a collection of delicious food and fun hangs. The setup isn't just for weary travelers trying to get home – rather, people hang out both throughout the day and far past bed time, enjoying boutique foods, shopping, and a wide draft list, while taking in views of the incredible architecture. There's even a hotel component, if you'd like to wake up right smack in LoDo territory. Union Station is an iconic piece of Denver's past and present, and is worth checking out – ride there, then relax and chill in a place that doesn't require a rush.
Nearby dispensary: Cannabis Station
Another LoDo hot spot for weed is Cannabis Station, similarly acting as a hub for the hustle and bustle of downtown Denver, just in dispensary form. They've got tons of product to offer the eagerly awaiting locals and visitors.
Check out: North Cap Hill Concerts
A classic Denver night often involves catching a mind-blowing concert at a low-key venue. Two popular venues, the Filmore and the Ogden, are near one another in the North Cap Hill area. They have affordable shows all the time, usually featuring bands you'd actually want to see, or will want to catch again as soon as possible. These venues are intimate without being crammed and have an air of artistry and authenticity. You'll be swaying your lighter in no time, enjoying the underrated Denver music scene.
Nearby dispensary: LivWell – Pearl
Before any concert, take a peek into the LivWell dispensary on Pearl Street. There, you'll find a wide range of products and an even more extensive list of deals. It's not far from the concert venues, and will provide an extra layer of connection for the music to soothe the soul.
Check out: Civic Center Park <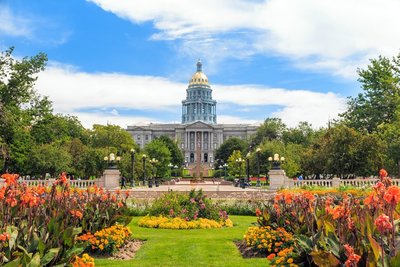 Denver has so many beautiful sights to see, but there's something dignified about a visit to Civic Center Park. The area is home to many attractions that fulfill a need for deeper thought, introspection, and reflection. The State Capitol, for example, is a landmark that, while reflecting sunshine off its dome, holds power within. The Denver Art Museum is a profoundly moving place to visit, featuring many collections that illustrate the power of creativity and passion. The Molly Brown Museum is nearby too and visitors can take a unique peak into one of Colorado's most famous residents, the "Unsinkable Molly Brown."
Additionally, Civic Center Park is a destination for many Denver-specific events. It lights up in the winter with holiday lights and, quite literally, lights up in April for the annual 420 city-wide rally.
Nearby dispensary: Damian Marley's Stony Hill
While government buildings and marijuana probably shouldn't mix (remember, weed is still illegal on a federal level, even in Denver), art and flower sure do. Grab some complimentary flower at Damian Marley's Stony Hill, to fully engage with the surrounding beauty and history. Read more here to find out why this dispensary is worth the visit.
For the best weed deals, head to the Leafbuyer deals page!