There are so many reasons to visit Denver, Colorado. It's big enough to be exciting, yet small enough to feel safe and comfortable. It's artistic, trendy, and diverse, with enough attractions to satisfy sports fans, musicians, artists, foodies, and anyone in between.
Recreational marijuana is an additional draw, though it's far from the only reason tourists flood the area. Weed is complementary to everything else the city has to offer.
Check out these heart-of-the-city attractions, paired with some favorite dispensaries in downtown Denver.
Check out: 16

th

 Street Mall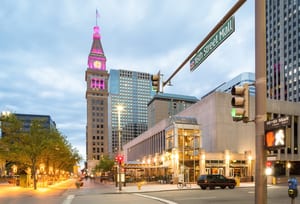 One of Denver's busiest areas is the 16th Street Mall, which spans the entirety of a city street. Cars (not including buses, so watch out) are not allowed, which makes for easy walking and gawking. And yes, there happens to be a lot to admire: street performers (including the famous Robot Mike, known for performing his robot antics up and down the street for years), buskers, commuters, and busy shoppers are hustling and bustling. It's easy to catch a free lift on the Mall Ride, which goes from Union Station to the shops like clothing stores, a movie theater, a book store, coffee shops, and several restaurants. Cruising 16th Street is a Denver rite of passage, since it usually includes experiencing the city's most eccentric and wild personalities, mixed with good, old fashioned consumerism.
Nearby dispensary: Euflora
The downtown Denver dispensary Euflora is centrally located for all your city weed needs. It's on the same street as the mall, and conveniently has everything necessary for a good time: high THC-strains, CBD products, and top-quality edibles, all ready for consumption.