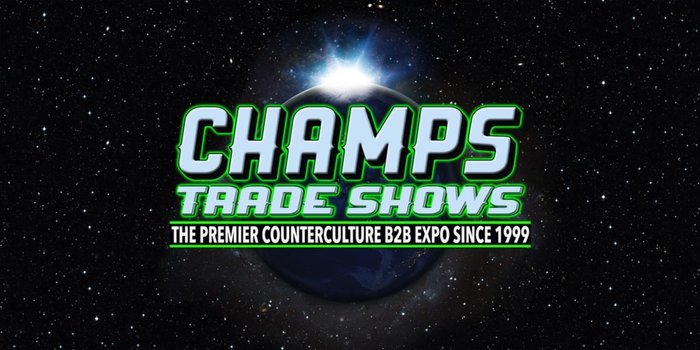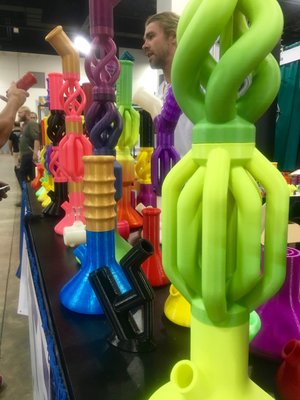 CHAMPS Denver is always a great show filled with friendly faces, creative products, and plenty of cannabis ideas to go around so we wanted to highlight some of the most innovative, and unique businesses at this year's show for you. Below are a few of the leading businesses in our industry as well as a few up and comers to keep your eye on.
LIFTED Innovations: 3D Printed Smoking Accessories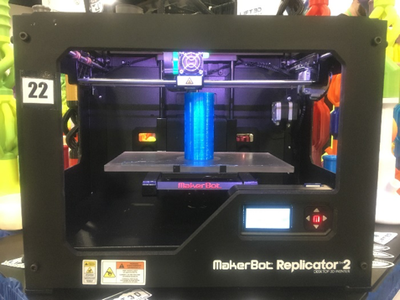 Walking up to LIFTED's booth you could expect to see an array of bright colored pipes with some ranging as tall as the booth itself. Another eye catching device was the 3D printer sitting on the corner printing a bright blue pipe to add to the collection. Tyler Best, Owner and President of LIFTED, explained to me the sturdiness and effectiveness of these 3D printed pipes. What's also fun about them is that they are adjustable and you can mix and match pieces of the pipe, think Legos but for your cannabis. If you want to learn more about these bad boys or order online, check out their full line at www.liftedinnovations.com.
Chiefton Supply Co: Elevated Apparel
Chiefton is an Apparel & Design company based out of Denver, Colorado. They specialize in innovative cannabis graphic design and branding so of course we were excited to see their booth at CHAMPS Denver. Chiefton came on the scene within the last year and hasn't slowed down. Designing branded apparel for multiple businesses across the cannabis industry and successfully creating their own brand in the Mile High City, Chiefton is the best choice for your business' apparel and design needs but also for your own personal collection of snapbacks and T's. Their colorful collections can be viewed online at www.chieftonsupply.com.
Making our way through the CHAMPS crowds, VapeWorld's large spread of multiple, well known b
rands like PAX Vaporizers and DAVINCI caught more than a few eyes this year. Speaking with Shauntel Ludwig, VP of Operations at DAVINCI, I was excited to learn about one of their newest products, the DAVINCI IQ. This new portable vaporizer is the smallest yet most sophisticated vaporizer on the market. Did we mention it has Bluetooth app integration? The smart technology vaporizer comes with a decent price tag, but in today's industry it pays to have a reliable, safe way to consume cannabis. Pre-ordering gives users a $50 DAVINCI store credit and shipping starts October 31st. To learn more or pre-order now, check out http://www.davincivaporizer.com/.
Enail Me: Custom American Enails
Walking by EnailMe's booth, I saw almost everyone stop and take a look at the unique enails. Ranging from Star Wars theme to Batman, these enails are a great conversation starter and a collector's item for the cannabis connoisseur. ENailMe is a custom enail manufacturing company based in Arizona. They use American components in all of their products that are all custom wired by hand here in the United States. The Japanese Omron controllers that they use in all of their products provided incredible accuracy and about a 45 second heat time. All of EnailMe's products have a lifetime warranty on the internal components and include a coil and power cord. Coils are available as flat, 10mm nectar collector coils, as well as 16, 20, and 24mm for any size, compatible, banger or nail. Check out www.enailme.com for their full line of amazing action figure e-nails.
Choice Botanicals: 100% All Natural
Perhaps one of the best things about our industry is the legal distribution of CBD across state lines and the opportunity to find new products for old ailments. Choice Botanicals hails from Austin, Texas and their main priority is high quality and consistent CBD products and is the premier source for the finest Maeng-da Kratom. Kratom is a plant grown in Southeast Asia and is typically used for pain relief, depression, and anxiety. Choice Botanicals has culminated years of research and development to produce the safest CBD and Kratom products on the market. To learn more or order online, visit https://www.choicekratom.com/.
Aspendam: Grind on the Go
Aspendam is an herbal company based in Aspen, Colorado. Their cool green and black branding caught many eyes during the CHAMPS tradeshow. Speaking with Dave Markle, owner, Aspendam created the original grinder on the go (G.O.G). This unique grinder fixes all the problems of grinding cannabis on the go. With its slender body, the G.O.G. is perfect for packing your bowl or filling your rolling paper. Not to mention, it has a grinder built on the top and once your cannabis is grinded it drops into the canister for safe keeping. Smell proof, compatible, safe, the G.O.G. by Aspendam is the perfect three in one for your cannabis adventures. Check them out at www.aspendam.com.
Shine Papers: The Inventor of the world's first ever 24 karat gold rolling paper.
Gold rolling papers?! Of course we had to check it out. Who wouldn't want to show up to the next party with gold joints? Shine Papers was a fun booth to check out at this year's CHAMPS Tradeshow. Shine Papers has quickly picked up steam with over 150k Instagram followers and multiple celebrity shout outs. With years of research and development on producing the best rolling papers, Shine Papers created not only an eye catching product, but your joints will actually burn slower when using their papers. The best part about Shine Papers is that they are affordable for being made of gold. Order yours online at www.shinepapers.com.
Humboldt Hemp Wick: Organic Hemp & Beeswax
Our partners over at Humboldt Hemp had a great booth at this year's CHAMPS. Humboldt's Hemp Wick is the perfect wick for lighting up any smoking paraphernalia or even those hard to reach candle wicks. Humboldt's hemp wick is a natural alternative to the butane lighter. It enhances the smoking taste and experience with its 100% organic hemp and beeswax. It gets rid of the risk of breathing in toxic butane gases or harsh metals and helps control the flame so you can have more precision when smoking. Who knew something so little could be so powerful! Another reason to choose Humboldt, they are made proudly in Humboldt County, USA. Visit www.humboldtwick.com.