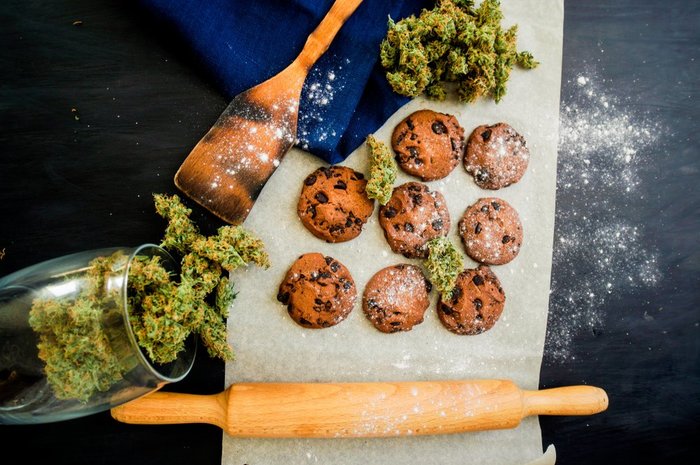 In September of 2015, six years after winning fame and $100,000 in Top Chef, chef Hosea Rosenberg made headlines again with his 420-friendly Harvest Dinner. Guests enjoyed a gourmet four-course meal with cannabis pairings for each plate, and media outlets had a field day highlighting this event's contrast with the marijuana culture stereotype. Now, as cannabis normalization continues, other chefs are entering the arena with their own classy spin on cannabis in the kitchen.
Celebrity chef Mindy Segal is the most recent food artist to make the front page with her plans to elevate edible cannabis. Beginning in February, Illinois medical marijuana cardholders will be able to purchase "chocolate brittle bars, a line of infused granola bites, an infused chocolate drink that is intended to be warmed" and more tasty treats according to the press release. Seeing the national potential, Segal and partner, Cresco Labs, have plans to expand the operation in other legal states as soon as possible. Payton Curry, head chef for MarijuanaRecipes.com, serves as another example. An International Culinary School graduate, Curry was featured on Iron Chef America in 2009 and claims to have been a lifelong advocate for marijuana legalization. Through the website an in-person events, he now fuses his two loves into innovative dishes for medical marijuana cardholders and recreational consumers alike.
Some chefs, like Curry, claim to push the envelope for the sake of normalization. By including marijuana in gourmet dinners or high-class events like weddings, cannabis culture is elevated. There is nothing wrong with appreciating some Cheech & Chong, but when cannabis can also mean eating fancy hors d'oeuvres in ball gowns, the legal marijuana market will grow. In 2016 we will likely see more entries into this space as professionals see the potential profit.
When classy marijuana meals are all the rage in a few years, let's be sure to take a moment to remember these culinary cannabis pioneers.