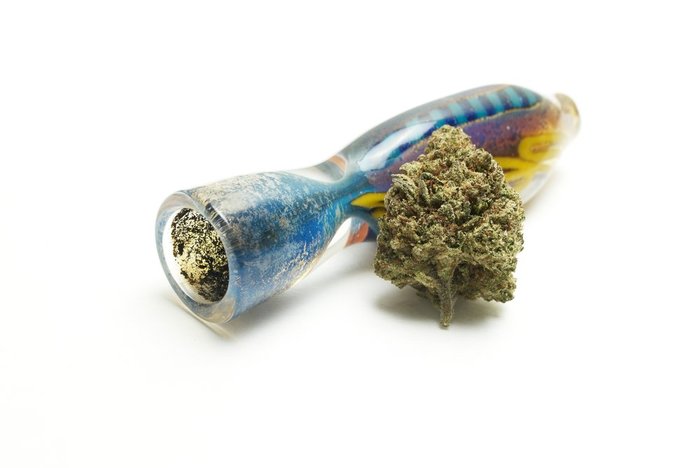 When you give a mouse a cookie, he'll probably want some milk.
Similarly, when you give someone some weed, they will most likely require something to smoke it in.
When the time for consumption comes, it is important to have the necessary tools on hand. While there are many ways to get your dose of marijuana, from inhaling to digesting to topical application. Sometimes, the need is plain and simple: You'd like to smoke your flower, straight up.
A cannabis pipe is a straightforward and classic approach, as far as smoking devices go. They come in various shapes, sizes, and with varying degrees of artistry and complexity, though they all tend to get the job done in a fairly similar fashion.
Here's where to find cannabis pipes in Canada.
Dispensary: MMJ Canada
With several dispensary locations in both Ontario and British Columbia, MMJ Canada is a medical marijuana dispensary that is known for providing a solid service to their community. Since 2013 this shop has helped patients find the herbal help they need, encompassed by a welcoming, professional, friendly, and safe environment for neighborhood shoppers.
Additionally, MMJ Canada has smoking accessories as well. Peruse their selection in person, or ask a budtender for their opinion. Once securing the pipe, future orders can be placed online.
Dispensary: The Dank of Canada
If you are wandering the streets looking for a cannabis pipe made in Canada, look no further than Ontario's The Dank of Canada, a medical marijuana dispensary located in Vaughan. Also offering online delivery, The Dank of Canada has a wide range of items for patients to choose from. Once the pipe is secured, The Dank is an excellent choice for potency and convenience. Check out their top-shelf collection of flower, edibles, concentrates, and topicals.
Head Shop: Smokesmith Gear
As seen on Leafbuyer, Smokesmith Gear is an online head shop that has won many awards for their large selection of smoking devices. There are many different types to choose from, including the coveted traditional pipe, as well as others like water pipes, glass pipes, bongs, vaporizers, and other smoking accessories.
One of the best parts is that after placing an order online, you will receive a discreet package filled with your choice of goodies, straight to your front door. It's fast, easy, convenient, and secure. You don't have to go to any shops and can stick to the security and comfort of online shopping. Pipes (and much, much more) await.
Dispensary: The Barn Medical Dispensary
Though high-end marijuana is their main focus, The Barn Medical Dispensary also offers a selection of smoking accessories, including cannabis pipes. Located in Canada's Ottawa, Ontario, The Barn Medical Dispensary is all about being a source of both unique and personalized service and products, chosen to best fit each patient's needs. There is a massive selection of items to look through, ensuring that everyone can find something up right their alley. So, go inside, wander around The Barn Medical Dispensary, and feel free to talk to a warm and inviting staff about both the kind of weed you are looking to smoke, and how you would like to smoke it.
Dispensary: High Society
For both marijuana and pipes meant for cannabis consumption, High Society gets the job done, and beyond. Set up in a boutique fashion, High Society offers the best products, with a high-end selection and ambiance unheard of in the medical marijuana community. After perusing the shop, you will feel a Gatsby-like elegance that translates to sophistication and glamour, with a pipe to match. This Toronto, Ontario shop is all about quality and satisfaction; grab your pipe and whatever materials you need to smoke with it at High Society.
Dispensary: The OMD
Known as the OMD, the Ottawa Medical Dispensary leaves patients saying "OMG." That's right-the OMD has an excellent reputation with customer service and offering care tailored to the needs of all patients. The OMD was the first medical marijuana dispensary to open its doors in Ottawa, Ontario, and has much to offer its community-from cannabis pipes to top-notch flower, with many products in between. For ease, quality, and the kind of bud worth putting into your pipe, check out the OMD.
Dispensary: The Bud Station
Much like a train depot, the Bud Station gives both locals and travelers an easy solution to what they need. This medical marijuana dispensary is a one-stop shop, supplying patients with every cannabis item they could need at a single junction, at affordable prices. You want a Canadian pipe? You got it. Marijuana to smoke? Check. A friendly and helpful selection of budtenders? You betcha. The Bud Station is a high-quality choice for one-of-a-kind cannabis items and products, located right in Toronto, Ontario.
Cannabis Deals and More
Once you have your Canada cannabis pipe, head to Leafbuyer.com to nail down dispensaries near your location with fresh flower and deals to cash in on. When you give a stoner a pipe, what comes next?