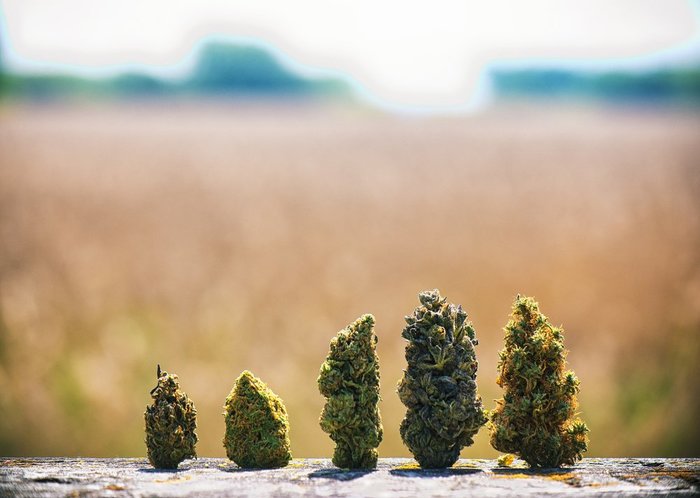 With the warm weather upon us, many people have already started either growing or seeking out the best strains for summer.
It's the perfect time of year to get outside and enjoy some light activity, which has most people reaching for strains that offer an energetic, happy buzz-heavy indicas need not apply. The season will be gone before you know it, so now's the time to start deciding what you want to have in your quiver for the next few months.
Here are the best strains for summer 2017, all of which will provide the perfect baseline for a warm, sunny day.
1. Galactic Jack
Few hybrids offer such an incredibly soaring sativa high as Galactic Jack, which makes it a perfect option for a bright summer afternoon. A cross between the classic Jack Herer and the lesser-known Space Queen, Galactic Jack's genetics make for a balanced, yet vibrantly "up" high ideal for a round of golf or a gentle outdoor walk.
The smell and taste of GJ is just as vibrant as its psychological effects, bridging the gap between Florida key limes and a slight hint of fuel. As uplifting as they get, Galactic Jack–one of the best strains for summer–is sure to please even the pickiest of cannabis consumers.  
2. Strawberry Dream
Looking for a strain that provides a balanced, yet strong sativa high and tastes like fresh-picked berries? Look no further than Strawberry Dream. This hybrid takes the best qualities from Blue Dream and Strawberry Cough, combining them to create a gentle, yet "humming" set of mental effects.
It's a great strain for creativity, leading to euphoria and a pronounced sense of energy. Come for the taste, stay for the strain's powerful effects.
3. Chocolope
A classic strain that typically weighs in at about 95% sativa and 20% THC, Chocolope smells and tastes as good as it looks. The strain is a cross between two phenotypes that aren't particularly well-known–Chocolate Thai and Cannalope Haze. It's quite fruity in flavor, with significant hints of cocoa that linger into the aftertaste. The buzz? As energetic as they come.
4. Super Lemon Haze
Some people look for "raciness" in the strains they choose for daytime, especially during the summer months of the year. SLH crosses Lemon Skunk and Super Silver Haze for a cerebral, clear-headed high that feels not unlike a jolt of espresso to the brain.
Its powerfully euphoric effects make it ideal for those who are fighting daytime crashes, and the candied-lemon flavor is impossible to not enjoy, even if the head-heavy effects aren't for you.
So don't let summer pass you by without adding at least one of the strains mentioned above to your lineup. Visit Leafbuyer.com today to find Galactic Jack, Strawberry Dream, Chocolope, Super Lemon Haze and more of the best strains for summer at a dispensary near you!