5 Bongs Made for the Average Consumer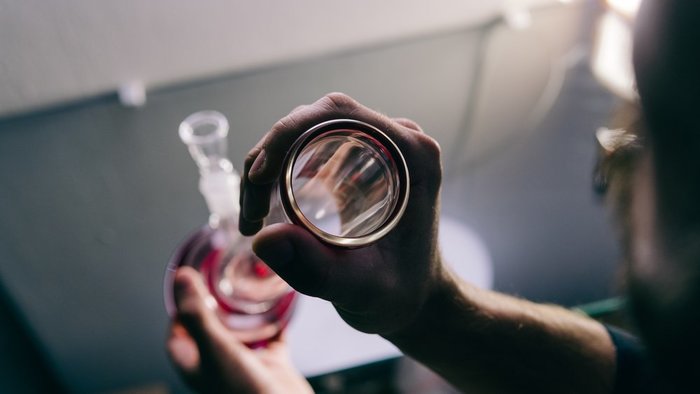 Bongs are a great way to smoke cannabis. Often, these delightful water pipes are a pinnacle of air diffusion and design – priming the smoking experience to be as smooth as the hit itself. Glass bongs and pipes – those wonderful, unique pieces of glass-blown art can get pricey, however. That's why we've partnered with TheSourceOfAll.com to bring you the details on five high-quality, affordable bongs.
Five Affordable Bongs From The Source of All
PuffPuffPassIt Beaker Bong $57.99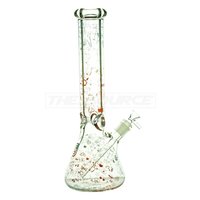 PuffPuffPassIt built the Beaker Bong to be both affordable and artistic. The thick-glass design allows users fantastic durability. This affordable bong is available in a variety of colors, with blue and red vinyl designs on clear glass available. The Beaker Bong is 14 inches tall. This awesome water pipe also has a triple ice pinch, a 14mm male bowl piece, and a 4.5 inch diffused downstem made of Borosilicate Glass
HoneyDew Recycler with Showerhead & Matrix Perc $89.99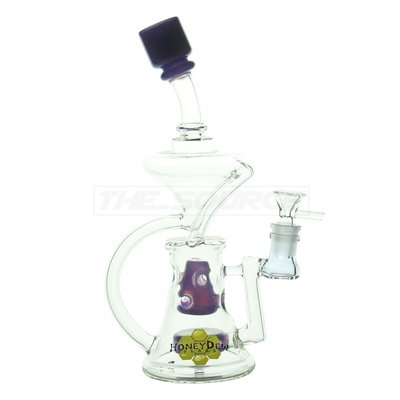 Looking for a quality glass bong? Look no further than the HoneyDew Glass recycler, complete with showerhead and matrix percolators. This allows for an unrivaled smoking experience, offering both clean and smooth hits. The showerhead and matrix percs keep the smoke at a temperature which could be described as refreshing rather than harsh. This affordable bong comes in at 10 inches tall, with a 3-inch base.
Comes with:
90 Degree 14mm Female Joint
14mm Male Bowl Piece w/ Stem
1″ Mouthpiece
Made of Borosilicate Glass
Torch Water Matrix to Faberge Perc Bong $129.99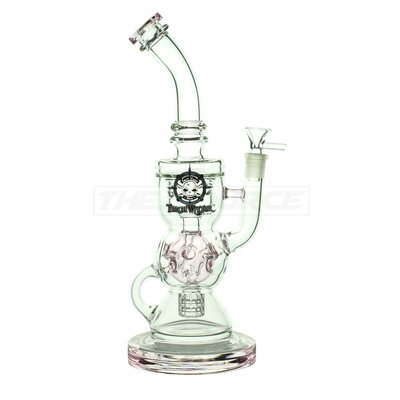 The Torch Water Matrix to Faberge Percolator bong is a cough-free toker favorite, providing a smooth smoking experience enmeshed with unrivaled air diffusion. This affordable bong is 13 inches tall and comes with matrix and Faberge percolators, ensuring each hit is cool and easy. The flared mouthpiece helps prevent splashback, while the pink accents help the glass glow.
Comes with:
Thick Glass
90 Degree 14mm Female Joint
14mm Male Bowl Piece w/ Stem
Bent Neck
Aqua Flex Hybrid Silicone Beaker Bong $64.99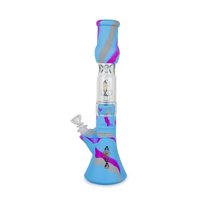 A combination of silicone and borosilicate glass, the Aqua Flex Hybrid Silicone Beaker Bong is one of the most durable water pipes on the market. This affordable bong offers an ice pinch as well as dome and UFO percolator. The 12-inch silicone design makes this bong easy to clean and effective to use. Users enjoy this bong for its smooth hits and break-resistant design.
Comes with:
Double Chamber
18mm Female Joint
18mm/14mm Downstem Diffuser
14mm Male Bowl Piece
Gender Changer
HoneyDew Glass Honeycomb to Tree Perc Bong $99.99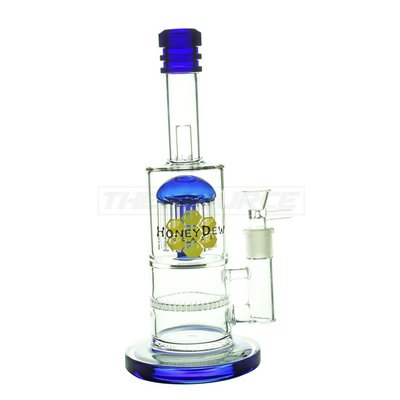 HoneyDew Glass is a top-of-the-line producer of well-designed and effective glass smoking products. The Honeycomb Perc to Tree Perc water pipe provides an excellently smooth hit every time, ensuring smokers get the most from their cannabis. This affordable bong is 11 inches tall and has a 4-inch base. The tree percolator has 12 arms and is connected to the honeycomb percolator.
Comes with:
19mm Female Joint
90° Joint
Dewars Joint
About TheSourceOfAll.com
The Source of All is an online resource for smoking products, glass, and accessories developed with every type of consumer in mind. From affordable vaporizers, dab tools, silicone and hand pipes to heady glass bongs, dab rigs, and more, The Source of All is the one-stop-shop for all your smoking needs.
THE SOURCE OF ALL OFFERS FREE SHIPPING ON ALL ORDERS. FIND YOUR BONG TODAY!