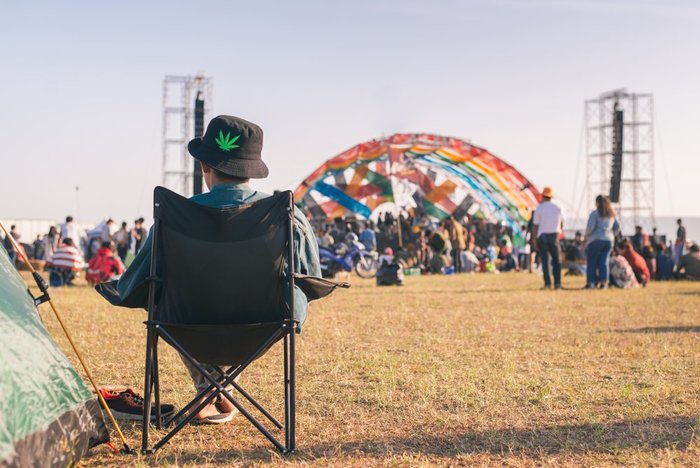 You know it as well as I do: music pairs well with pretty much anything. Whether it's running, painting, dancing in your kitchen, getting through your daily commute, falling asleep at night, and everything in between, listening to your favorite tunes just enhances the overall experience.
As it turns out, music and weed have an extra special relationship. Not only does listening to a hot jam make that joint taste a little sweeter, there's also a communal history involved. Musicians have sung about marijuana for years; crowds have bought out concerts to enjoy their dripping words. The herb has inspired artists and listeners alike, and has created a culture where the two intersect.
Because of that, we have weed anthems. There are songs that talk explicitly about cannabis and those that just capture the mood of an all-night smoke sesh. Either way, these tunes make up a community of foot-tapping tokers, melding several generations.
These are some of the top ten best weed anthems, in no particular order.
Roll Me Up and Smoke Me When I Die by Willie Nelson
Willie Nelson is a national treasure, with a canon of songs that can be easily described as weed anthems. He loves marijuana, and he's never been scared to show it. With his two long braids in tow, Willie croons about his wishes for once he passes on. As the title suggests, he'd rather keep things lighthearted and fun; "When I go out, I've been here long enough," he sings.
"So sing and tell more jokes and dance and stuff
Just keep the music playing that'll be as good as goodbye
Roll me up and smoke me when I die."
This song is a classic stoner jam, keeping the mood light and fun with undertones of seriousness and life themes.
Young, Wild, & Free by Wiz Khalifa and Snoop Dogg, featuring Bruno Mars
With a catchy tune and an even better chorus, "Young, Wild, & Free" quickly became a weed anthem, as well as a celebration of youth. Even if you weren't a cannabis consumer, you could still bump this song in your car with the windows down, feeling young, invincible, happy, silly, and ready to celebrate all of life's highs.
This track is timeless, and every listen brings back those nostalgic, fun feelings. Sure, Wiz and Snoop talk about rolling up, but they're really asking "so what?" That's what makes this a weed anthem, and always will — that rebellious, can't stop me, might as well join me attitude.
The Joker by Steve Miller Band
The words are easily remembered by anyone familiar with this 1973 tune: "I'm a joker, I'm a smoker, I'm a mid-night toker." Steve Miller Band adds a twangy twist to the rock song "The Joker," which is a definite weed anthem.
The voice throughout the song breezes through a narrative that's light, bright, and fun. He's cruising on with everything he needs: his cutest-thing-he-ever-did-see partner, a head without worries, and a sinning-agenda. Bring on the blissful highs with this tune in the background, for anyone wanting to be a space cowboy.
Gin and Juice by Snoop Dogg
As the hit that established Snoop as a household name, "Gin and Juice" is a testament to smoking herb and staying calm despite what life throws at you — the ultimate weed anthem. The beginning of the music has definite Friday vibes, as the young Snoop is told to be productive, shape up, and get a "jobby-job," and continues to defy those very commands to be chill and smoke weed. A true anthem.
We Can't Stop by Miley Cyrus
Whether it was "just a phase" or not, Miley Cyrus blessed us with a bop with "We Can't Stop." Hannah Montana-turned party girl let it loose in this track, giving everyone a song worthy of lighting up to.
No matter how controversial it may sound, "We Can't Stop" is a weed anthem. While her lyrics are not necessarily specific to cannabis, Miley croons about making decisions based on individual happiness, rather than the opinions of others. "Can't you see it's we who own the night, can't you see it we who bout' that life?"
We can't stop, we won't stop. Whether that has to do with staying up all night getting crunk, being unapologetic about who you are, or living life fully — it comes back to this anthem. Be who you want to be, do what you need to do, smoke the weed that's right for you.

Doin' Time (Summertime) by Sublime
Sublime's "Doin' Time" is the ultimate song of summer, as well as a classic weed album. It's filled with a rhythm and sound that shakes hips, nods heads, and inspires a craving for a certain green herb. The track has reggae-inspired elements and true stoner riffs, making it both an instant and timeless classic.
Just turn to the lyrics for further proof: the narrator is going through some obvious relationship issues. He's imprisoned and trapped by a cheating girlfriend. And juxtaposed with those feelings of unrest is a tune that speaks the opposite; "the livings easy," he interjects. That's because it is, when you consume weed. Sometimes life's problems seem to melt away, carried into the abyss on a smoky exhale.
Puff the Magic Dragon by Peter, Paul, and Mary
Peter, Paul, and Mary might've denied it, but "Puff the Magic Dragon" is one of the best weed anthems of all time. Sure, the song might be veiled as an innocent story about a dragon that lived by the sea. But now, marijuana has as much to do with the lyrics as any mythical fire-breathing character.
There are several allusions of cannabis and smoking symbolism that the song now is a raging weed anthem for stoner culture everywhere. For example, Puff — which has its own clear connotations — has a buddy named "Paper," and the word dragon sounds pretty similar to "draggin." It might be subtle, but all the clues point to a cannabis-fueled liberation for all listeners.
Marijuana by Kid Cudi
Kid Cudi is an artist that incorporates imagery of cannabis into most of his songs. He's honest and real about his consumption, and how he uses marijuana to cope with everything from night terrors to in-his-head anxiety.
"Marijuana" is an ode to the herb, and is filled with a range of synths that sound cool and sophisticated and echo the vastness of a cerebral high. For the chilliest of hangs, this song continues to be a weed anthem. Shout out to his other hits, "Day N Night" and "Pursuit of Happiness," which are honorary marijuana tracks for the ages, though maybe a little less on the nose.
Because I Got High by Afroman
This song needs very little explanation; that's how much of a weed anthem it truly is. Afroman's distinct voice and nursery rhyme style is legendary in this track that blames a series of various mishaps on getting high.
Reportedly "Because I Got High," a satirical cause and effect story, only took Afroman two minutes to write. However, it has gone down in marijuana history as one of the most beloved weed anthems of all time. It's easy to sing along to, and even easier to laugh as you imagine all the silly things forgotten because the herb came first — from cleaning to studying to pulling over to paying child support. Whoops.
10. Pass the Kouchie by The Mighty Diamonds
While "Pass the Dutchie," recorded by Musical Youth, might be the better-known version of the song, the original "Pass the Kouchie" is more of a classic marijuana tribute. When it was re-recorded by Musical Youth in the 80s, the lyrics were changed to be a bit less on the nose.
The original's classic reggae groove and positive lyrics make for a clear weed anthem for anyone passionate about the culture of cannabis. With lyrics like, "If you got no herb you will walk an' talk / So I lef' my gate and went out for a walk" it's hard to feel stressed when you're vibing to this classic weed anthem.
The next time you're tuning into the best weed anthems, be sure to check dispensaries near you for the latest deals on your favorite products.
For the best cannabis deals, head to the Leafbuyer deals page!