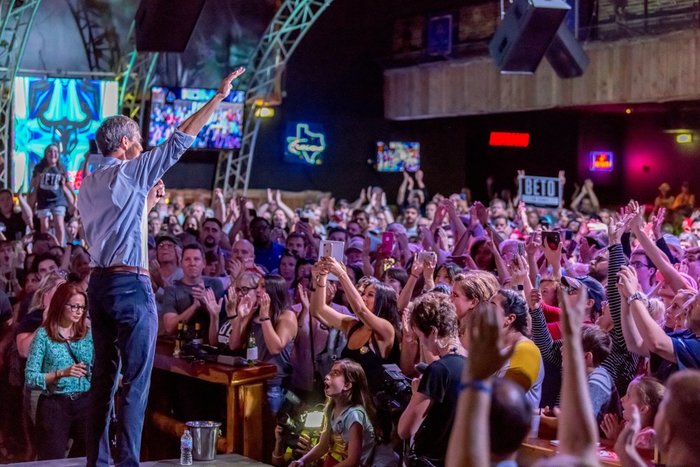 EL PASO, Texas — Texas congressman Beto O'Rourke (D) lost his Senate race against Sen. Ted Cruz (R) on election day, but many are already talking about a presidential run for the pot-friendly congressman in 2020, according to the Dallas Observer.
Congresswoman-elect Veronica Escobar (D), who will take over O'Rourke's seat in the states' 16th congressional district, said that O'Rourke should consider a presidential bid in 2020. "He should run – I would love to see that happen," Escobar told the Hill. "I love that he cares about each and every person – that's what government is about, and I think he's an exemplary public servant and I don't want us to lose him."
Texas Republican strategist Matt Mackowiak also thinks that the congressman has the resources for a successful presidential race, noting O'Rourke's popularity and ability to raise large amounts of money.
"He was able to raise an enormous act of money and that alone separates him from the crowd," said Mackowiak. "People in Texas were mesmerized and moved by him. The fact that he lost by 3 percent is impressive." O'Rourke raised $70 million for his Senate campaign without taking money from any political groups or super PACS and lost the close race by only 2.5 points.
Beto is Woke
Strategist Maria Cardona also told the Hill that O'Rourke should run for president in 2020. "If he wants to run, he should do it. He now has name recognition, a widely successful fundraising operation, a young fresh face with a sprinkling of woke, a cool persona, a new perspective, he speaks Spanish and would be an exciting and upbeat candidate," said the Democratic strategist.
David Wade is also a Democratic strategist who says that O'Rourke should take advantage of his popularity, noting that such moments in politics are fleeting.
Even the chief strategist for Sen. Ted Cruz, Jeff Roe, couldn't ignore the popularity of O'Rourke. Roe said that the Democrats don't have anyone of O'Rourke's caliber with national recognition in the running so far. "I pray for the soul of anyone who has to run against him in Iowa," he concluded.
Publicly, O'Rourke has said that he will not run for president, telling MSNBC on Nov. 5 that he would not be a candidate for the presidency in 2020.
However, with so much enthusiasm for a prospective presidential run and Politico placing O'Rourke in third place behind former Vice President Joe Biden and Sen. Bernie Sanders (I) for the Democratic nomination, anything is possible.