Best Weed-Themed Summer Sun Dresses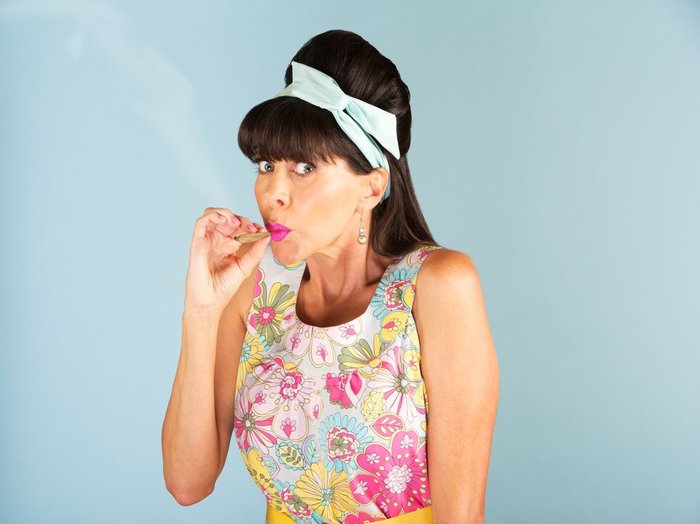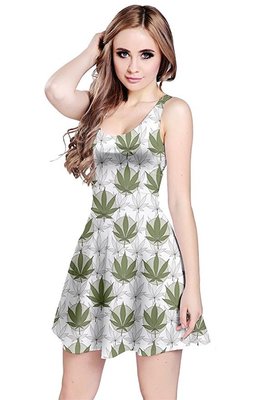 It's summer time, and the weather's fine — as the sun comes out, the dresses do too. For all the girls out there who enjoy representing the weed they love through clothing, you're in luck. There are tons of options of weed-themed summer sun dresses, perfect for a day spent soaking in some rays, lighting up in a lawn chair, or spending a lit night out on the town.
There's no shame in dressing in an expressive way, especially when fashion combines with comfort and affordability. Look no further for the best cannabis dresses online.
Cow Cow Dress
This dress is as cute as it is versatile. With over 44 options to choose from, the designs range from subtle to full on quirky–with giant pot leaves to layered skulls and joints. It's flirty, fun, and cheap, coming in at $18-20. Plus, the sizes are inclusive for every body type, from XS to 5XL.
Buy it here on Amazon.
Short and Sweet
This skater-style dress is perfect for standing out in a crowd. The pleated skirt is flirty, while the bright green pot leaves over black design combine cannabis with sass. It screams, "I love weed!" at the top of its neon, smoke-filled lungs. For super-hot summer nights, look to this $17 stand out dress.
Buy it here on Amazon.
Marijuana Maxi
Sometimes the best things in life ain't cheap. Keep this in mind when looking over this $225 dress. The quality, however expensive, might just make it worth it. Not only is it made-to-order, the cloth is made from 100% recycled rayon and the designs are completely original, made to echo the healing essence of cannabis through geometric designs.
Buy it here on Etsy.
Breezy Blue
This $36 dress is a steal. The fabric is loose fitting and cute, with a casual flair that goes hand-in-hand with a true sun dress aesthetic. The blue hues make the pot leaves a tad more subtle, making it a comfortable choice even for crowded summery get-togethers and family gatherings. It's fresh and modern, with a cannabis edge. Pair it with a fresh pair of sunnies, a cute pair of sandals, and a smile–and summer bliss is all yours.
Buy it here on Etsy.
Graphic Goddess
It's short, whimsical, and made-to-order: by golly, it's a $64 weed-printed dress. The design is complex and echoes watercolor, with hues of forest green and flower pink. The symmetry is beautiful and modern, and it's shape guarantees maximum sun exposure.
Buy it here on Etsy.
420 Queen
This dress is as 420-friendly as it gets. With layered green hues of leaves twisting every direction, this A-line creation is sleek and modern, at $65. The loose-fit allows for maximum movement and joy on a summer's day, without having to worry about being overdressed or underdressed–wearing this, you just simply belong.
Buy it here on Redbubble.
Quirky Miss
For an exciting and unique twist, look to Redbubble's rendition of a pot-lover's ideal sundress. It's quirky and fun, moving away from the classic cannabis plant look; instead, the dress is filled with cute symbols that represent the modern stoner's life. Some of the graphics include joints, bongs, clouds of smoke, lighters, leaves, and an alarm clock showing 4:20–all with happy, stoned smiley faces. For $70, this charmer could be yours.
Buy it here on Redbubble.
With these sun dresses, ganja-loving girls can show off their love for cannabis while enjoying the perks of summer. Go dancing, enjoy a day at the beach, and wear them to a rave or music festival. Regardless, all wardrobes could use a little weed-themed sprucing. So, pick one out, put it on, and brave the world–one sun-filled twirl at a time.