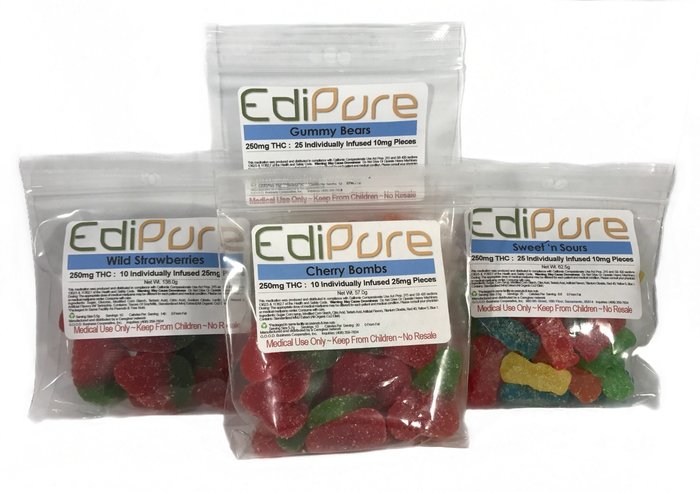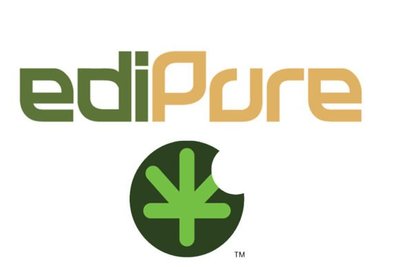 The cannabis industry is one of the fastest-growing sectors in our society. With nearly every other industry finding its niche within cannabis, there has been some serious competition in all areas. Where we have seen some of the most competition is amongst third-party vendors. A third-party vendor produces products like concentrates, topicals, or even edibles. While all products have strong competition, the edible market has seen some of the most growth. However, even with all of the competition, there has been one company that continues to thrive: Edipure.
History of Edipure
Edipure first came together around 2009. The company was founded in Denver, Colorado by a group of lifelong buddies. They had the vision to create an edible company that produces consistently high-quality products. When edibles first came into the legal market, there was a serious problem with the efficacy and consistency of each product. People were not taking the time to really think about their processes. Edipure saw the high demand for better edibles and decided to lead the industry in the right direction.
Edipure started out as a medical-only vendor, but it has adapted with the rise of the recreational cannabis. Edipure was one of the first edible companies to create a consistent, lab-tested, and high-quality product. With the power of their sales and branding teams, Edipure quickly became the leading edible company in the industry. Not only were they the first, but they helped to set a precedent for all edible companies to come.
Due to Edipure being one of the first to take the market by storm, they had a remarkable amount of growth in just a few years. However, the market has drastically changed since the beginning of legal cannabis. There are much more regulation and competition. Last year, the MED made nearly 2-3 regulation changes every day. For an edible company, this means changing molds, changing recipes, changing entire processes, and even changing the packaging. The edible sector is one of the most compliant sectors of the cannabis industry.
It was this regulation, along with competition, that eventually slowed Edipure down. However, Edipure has been able to survive through it all. Unlike other edible companies, Edipure sustains through all the change. This is in part due to the extreme branding that was done by Edipure. They have been seen nationwide on forums like CNN, MSNBC, 20/20, Time Mag, New York Times, and even Steven Colbert. Edipure has become known as Denver's Edible company. This branding is what gave them such a drastic growth rate. Tourist knew who they are and locals love to support them.
Edipure's Products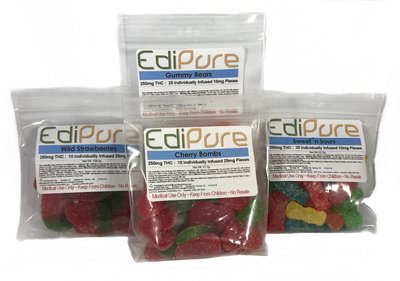 Edipure is known for great-tasting edibles. Their products usually stick to a wide range of different candies. Anywhere from sour gummy worms, to peach rings, to rock candy, to even a candy similar to Swedish Fish. Edipure has always prided themselves on providing an edible that has little cannabis taste, and they ensure a quality product by hand-infusing each edible. This guarantees that the final product is consistent, effective, and, of course, has a little bit of love in each bite.
Edipure offers both recreational and medical products. Their products do usually stick to a form of candy, but we never know what they could come out with next. Some of the more popular products include hard candies (lemon drops), peach rings, and sour gummies. Again, their products are known for having little hashy taste and being consistent all the through. They also have a variety of THC and CBD options, meaning there is an option for every consumer.
Where to Find Edipure
At one point, Edipure was in a majority of the dispensaries around Colorado. Their wide reach has shrunk a little in the face of rising competition. Yet, they have maintained shelf space in some top-of-the-line dispensaries. The most popular spots to get Edipure in Denver, Colorado are Buddy Boy Dispensary, Sweet Leaf, The Giving Tree, and The Green Depot. I have also seen Edipure's hard candy in a few of the LivWell locations. While these are some of the known locations, it is always worth asking your local dispensary if they could get some in. Edipure is also spreading into California and Washington.
Edipure has helped create the edible market that we love today. They were the first to get edibles done right and set the market in the correct direction. Edipure provides products for both patients and recreational consumers. They even give a wide range of CBD options as well. Overall, Edipure is one of the only edible companies to have started at the beginning and survived to the present. Edipure really is "The One. The Only. The Original."
If you're new to the world of edibles, or you just want some handy information, check out these two posts from the Leafbuyer archives:
The Quick Edible Consumption Guide
How Do Marijuana Edibles Affect You?