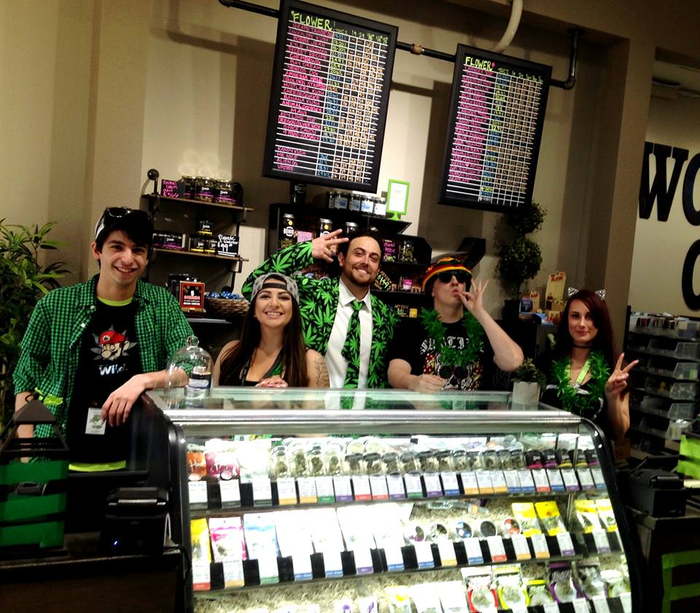 World of Weed is one of the top dispensaries when it comes to finding recreational weed in Seattle. Known for their friendly staff, premium product, and great prices, they have a loyal customer base and growing social media presence.
Places that sell recreational weed in Seattle, and surrounding areas, are typically located in the heavily populated areas, and World of Weed is no different. They are located just a few blocks from the freeway, close to downtown Tacoma, the Tacoma Dome, and Emerald Queen Casino. They're in the Old Tokarewski Hardware building that was built back in 1911 and then later went on to become the White Eagle Tavern in 1946.
World of Weed has plenty of discreet parking in their back parking lot, plus parallel parking alongside the store entrance along 32nd Ave. Located at 3202 Portland Ave E, Tacoma, WA 98404, the dispensary is easily accessible by car, foot, bus, or taxi.
While most dispensaries look just like any other specialty retail shop – but with the addition of the ambrosial scent of cannabis – World of Weed stands out. The owner, Alden Linn, wanted his shop to be comfortable and welcoming. That's why he designed the store to look and feel like your friendly neighborhood coffee shop. It's got a cozy, familiar layout that immediately helps customers relax the moment they walk through that door. Not only are customers immediately welcomed with warm greetings and great recommendations, but they will also see a menu that offers something for everyone. No matter what you're looking for, they've got it.
The Best Products, The Best Prices
Of all the places to buy recreational weed in Seattle and surrounding areas, World of Weed has an abundance of industry expertise, something that the public and surrounding communities are noticing.
Considering the fact that they have the best strains available in the State, this is hardly surprising. Whether you're coming for flower, concentrates, edibles, or topicals, World of Weed has everything you could possibly ask for.
Not only do they offer premium products, but their company is truly a family – something that shows their Washington roots – and they have been listed as the number one pot shop in the state.
They regularly have Vendor Days, so customers can meet the brilliant teams behind their favorite strains.
With daily sales on already affordable prices, World of Weed is one of the best places to purchase recreational weed in Seattle. Not only do their strains offer top recreational benefits, but they also have numerous benefits for medical patients as well.
A Unique Experience for Every Customer
The staff is highly knowledgeable, offering recommendations for each individual's preferences and needs, providing a unique experience with each and every visit. The products are grown with expertise, tested with care and precision, and highly enjoyed by all of their customers.
Just check out some of their customer testimonials:

But, don't just take their word for it – come in and see their latest offerings and take advantage of their daily sales!
Article By: Alexia P. Bullard