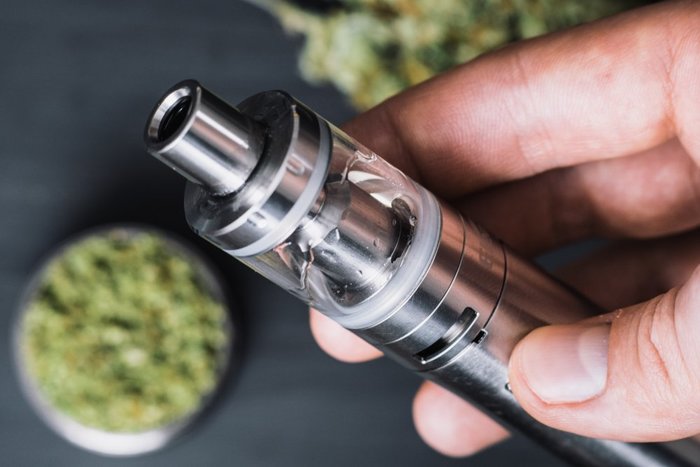 Vape enthusiasts should be aware that with each passing month, at least 5 new vaporizers are released to the public. Here at Leafbuyer, we've decided to take it upon ourselves to provide our readers with the newest vaporizing technology from all the best manufacturers from around the globe. Here are the 6 latest and greatest vaporizers for wax, flower, and oil in no particular order.
1. ATMOS TYGA X SHINE PILLAR VAPORIZER KIT
If you're into Tyga's music, you'll probably be pretty interested in the vaporizer he designed and produced. This piece is super cool since it's a collaborative piece between Tyga and Shine rolling papers, and brought to life with Atmos vaporizers. The Tyga x Shine Pillar Kit is a unique take on the Atmos Pillar, which is one of the best selling and top performing vaporizers on the market that is capable of vaporizing both dry herbs, wax, and oils. This vaporizer comes with advanced temperature controls so that you can control the harshness of whatever you're smoking. This vaporizer is also super light with a solid feel, and a high quality ceramic deep-dish heating chamber. It also comes with a 5 year warranty, and a stunning 40 second heat up time. If you're always on the go, the Tyga x Shine Pillar is going to be the perfect piece for vaping both wax and dried flower.
2. LOKI TOUCH VAPORIZER
The Loki Touch Vaporizer is an amazing piece that boasts a touch screen temperature control, making it one of the first of it's kind. It's currently only capable of vaporizing dried flower, but it makes up for it by being incredibly portable. The Loki Touch was designed to be both incredibly portable and discreet as well as lightweight and stylish. It's got a very slick design to it, with temperature controls on the touch screen. The digital LED interface makes it possible to set your favorite temperature with only a swipe of your finger. It's so accurate that you can change your temperatures one degree at a time, giving you a level of control previously believed impossible. The Loki touch takes 30 seconds to heat up, and comes with a 1 year warranty for only $160.
3. ATMOS Q3 VAPORIZER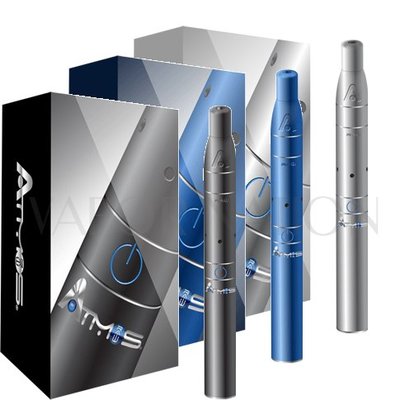 If you don't already have a kickass method for portable dabs, the Atmos Q3 Vaporizer is for you. As the newest model on our list, this vaporizer has the best vape tech on the market for wax. The Atmos Q3 Kit packs the power of an eNail in a more compact unit. This vaporizer is designed with the compact and discreet vape pen design in mind. This pen also boasts a 5-year warranty and only takes 5 seconds to heat up. The Atmos Q3 Vaporizer also features a few amazing triplicate quartz rods that facilitate hits with an intense flavor similar to an expensive dab rig with a glass mouthpiece. In case you didn't know, glass saves flavor. This vaporizer also comes with a powerful lithium-ion battery with an extended lifetime that you can recharge which helps the vaporizer heat up so quickly. If discretion and excellent flavor is your thing, the Atmos Q3 Vape is great for wax enthusiasts on the go, at only $75.
4. THE V2PRO SERIES 7 VAPORIZER
The V2Pro Series 7 Vaporizer is by far the best value for your money. It's also one of the newest, and one of the top rated vaporizers for everything. The discreet little vape can handle wax, dried flower, e-juice, and oils. It does just about everything. Even though it's so small, the Series 7 has just about as many features as the space shuttle, and it's unmatched when compared to its predecessors. This little vape offers convenience and performance with incredible versatility and power. It comes with an 1800mah battery and a 2.4ml tank, so you can count on it to run for hours of continuous vaping. The Series 7, even small, shouldn't be underrated since it can produce a ton of milky white flavor filled vapor. This vaporizer is excellent for vape enthusiasts on the go, due largely to the fact that it's compact but weighted and resilient to the touch. At only $130, the Series 7 comes with a limited warranty.
5. THE MATRIX VAPORIZER
The Matrix is another vaporizer that is designed only for dried flower, but it's the highest rated by both consumers and critics alike. It offers a great value and good performance at a fair price, which can't be said for a lot of other newer vaporizers on the market. The Matrix vaporizer almost makes you feel like you're smoking a distillate because the vapor from the flower in the chamber is so smooth, it really gives you a super clean high. The coolest thing is that the Matrix vaporizer is moddable. The standard version can do dried herb, but you can pick up a different chamber so that the Matrix can accept oil concentrates. Sure, you may have to lug around two different chambers, but it's a minor price to pay for versatility and affordability. The Matrix is also incredibly easy to operate and comes with a limited warranty at only $150. IF you like simplicity, versatility, and cost efficiency, the Matrix vaporizer may be for you.
6. THE HAZE V3 DUAL VAPORIZER
As an all in one vaporizer, the Haze V3 is by far the next best option behind the Series 7, which also does it all. If you want a high quality, long-lasting vaporizer that has impeccable flexibility, this one is probably for you. The Haze V3 is the very first dual chamber vaporizer that is also portable to capture the attention of vape enthusiasts all over the world. Haze Technologies spent a lot of time developing V3, which is a product of all the combined efforts of designers and engineers to improve the previous models. It features an additional canister for dried flower, which makes it and all in one vaporizer for the folks who want to use their vapes for more than just wax and oils. The V3 gives people the option to switch it up on a whim with this design. Haze Technologies also made sure to design the user-interface to be simplistic by designing an easy to remove mouthpiece, a leak proof concentrate canister, and an easy load tool for putting your ground flower into the dry canister a breeze. The V3 produces incredible vapor with a temperature regulator and maximized airflow. It's also very small and portable, so it's good for vape enthusiasts on the go. The Haxe V3 Dual Vaporizer comes with a 10-year warranty, which guarantees the product for 10 long years of satisfying vapor at only $250. Anyone who wants a portable, versatile, superior and fulfilling vaporizer that is more than worth the price should definitely go for Haze V3.

Portable vaporizers are the most popular and by far the most high-tech vaporizers in 2017. These vaporizers are all small and compact and powerful, and they're only improving as the latest tech in vaporizers comes along and advances with leaps and bounds each month. We took into account the quality of the above vaporizers as well as the fairness of their prices, and the convenience and the performance of each piece before listing them in no particular order. User reviews and critical feedback were also used to compile this list.
We hope you find it useful!