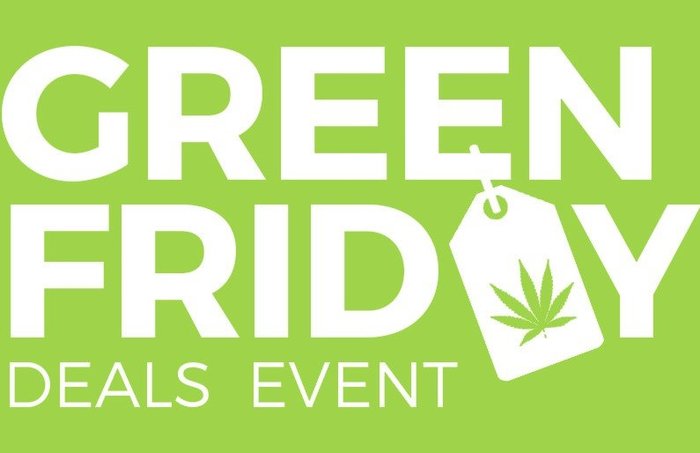 A few short years ago, some economists were predicting the "death" of Black Friday, but maybe it was just the death of the dreary name. Just as spring brings new life by way of verdant vegetation, the cannabis industry has been 'greening' the pastures of Black Friday for a few years now, by growing the tradition of Green Friday deals.
As recreational cannabis becomes legal in more states, more dispensaries have opened around the country; creating more competition and better deals to entice would-be patrons of pot.
And the best way for a cannabis dispensary to stand out is by offering the best Green Friday cannabis deals in the area.
That's why, for the third straight year, Leafbuyer has teamed up with the top recreational and medical cannabis dispensaries to bring consumers the best Green Friday Deals across nine legal states.
Using Leafbuyer's unique platform, cannabis shoppers can discover phenomenal deals, research different strains, and explore the map to find dispensaries in their state.
Zen Dispensary – 30 Green Friday Gift Boxes containing one Ganja Grinds Beverage, one Elite Cartridge, one Totally Twaxed Pre-roll, one Twax Cone, one Twisted Concentrates Cartridge & one Jupiter battery/charger
Sol de Mendocino – Beezle Blowout: Select varieties of 1g live resin sauce, sugar and budder $35 – $40 (Reg $45 – $56/gram)
Golden Leaf Delivery – Get 5g of shatter for $100
Elevated San Francisco – Get 50% off ALL vape cartridges *Excludes Pax Pods*
Sticky Buds – MED/REC – $15 concentrates! El Sol and CSC! Out the door!
LivWell – REC – BOGO $0.25 CBX Cartridges
Green Heart – REC – 35% off everything in store! *Friday 11/23 only*
Universal Herbs – REC – Jason – 1st 20 customers in the door get a free grinder
Elements Boulder – REC – CSC Distillate Cartridges 500mg $18
Helping Hands Herbals – REC – Add a gram of wax for $10! While supplies last
The Farm Co. – REC – Incredibles Pumpkin Delight only $10
Quality Choice Dispensaries – MED/REC – Buy 2, get 1 FREE on all edibles! Restrictions may apply. *Valid only on 11/23*
The Herb Shoppe – MED – $299 Craft OZ Concentrates OTD 10:30-11:30am
Pike's Peak – MED – 2 grams of wax or shatter for $25
B&B Cultivation – MED – Get 1 ounce of premium flower for just $125! Limit 2.5oz per cardholder
Kind Acres – MED – Get distillate cartridges for only $20! *Friday only, while supplies last*
Sira Naturals – MED – Get $10 off all Macrodose Caramel Sizes (25, 50, 100mg) *Saturday 11/17 – Friday 11/23 *Profile coupon only, no limit on discounted caramels* *Valid in Cambridge and Somerville Only. Can be combined with other offers
MMJ America – MED/REC – Dixie – buy a Dixie Elixir for 20% off, get a shot glass for $0.01
Harmony – MED – Tangilope, 22Jack, cookies, flower 20% off
Emerland City Dispensary – $10 grams of LA Confidential *Hush* Concentrate
LivWell – REC – 25% off Wyld Chocolates
MindRite –  MED/REC – Top Shelf Maui Wowie and Northern Lights $5 1/8ths OTD! *Valid until 11/25*
Oregon's Green Rush – REC – 15% off Storewide! *11/23 ONLY*
365 Recreational – REC – Entire store is 20-50% off GREEN FRIDAY ONLY!
Herb (n) Elements – MED/REC – 2-packs of infused joints by Fire (brand) are only $9
Nature's Recreational Center – $40 ounces of flower
Toker Friendly – Get a gram of oil for only $12! Select brands/strains.
As the world's largest cannabis deals network, Leafbuyer continues to compile the best deals from hundreds of dispensaries across the nation, offering insane discounts for consumers.
In 2016, over 154 million consumers shopped over Black Friday weekend, in 2017 that number rose to 174 million. Now, dispensaries want cannabis consumers to experience this rush as well. Right now, hundreds of business in Arizona, California, Colorado, Maine, Massachusetts, New Jersey, Nevada, Oregon, and Washington are offering door-busting Green Friday Deals in 2018.