This election season, tumultuous as it was, yielded an eight out of nine sweep when it came to marijuana on the ballot. Yes, four states gained medical marijuana and four gained recreational. In addition to this, the city of Denver passed an initiative to allow licensing of marijuana cafes. With the addition of California into the recreational fold, an unprecedented modern population is going to be unleashed unto the cannabis industry.
With the cannabis industry projected to have a value of $50 billion by 2026, opening a dispensary almost seems like a sure-fire way to make money. Much like the gold rush, entrepreneurs are creating new brands and products with a zeal tempered only by the expanse of competition. Good news is, we haven't seen an end to the profits yet allaying (somewhat) concerns that about saturation. So if you're looking to get your piece of the $50B pie, consider these factors when you look to open a dispensary.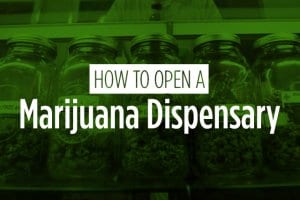 Location
Learning how to open a marijuana dispensary is dependent upon the geographic location in which you plan to operate it. While the physical location that you intend to operate, your business is vital, the state, city, county, and neighborhood can be restrictive in several ways. Many of the states that have legalized marijuana include clauses allowing municipalities to limit the licensing of marijuana facilities or ban them entirely. While this doesn't impinge on a person's ability to consume, it does prevent your business from being able to exist.
Additionally, there are local requirements for commercial zoning of dispensaries, so be sure to check those out if you are learning how to open a dispensary. If you are wondering how to open a marijuana dispensary in California, for instance, dispensaries are prohibited from being 1000 feet from a school, 500 feet from a residential area, or 1000 feet from a library or park.
Medical, Recreational, or Both?
While the location is paramount when learning how to open a dispensary, a choice that is growing in scope along with the recreational laws is whether you want to carry both medical and recreational products or specialize. While many states only allow medical sales, opening a marijuana dispensary in the states that have implemented a recreational sales market require a completely different license to operate, which carry various costs dependent (again) upon the geographic location you plan on opening a marijuana dispensary.
In the states (like Colorado) that have legalized recreational sales, medical sales are often positioned in an ancillary role to the recreational function. That's not to say medical sales are not an important consideration when learning how to open a marijuana dispensary, rather the observation that recreational sales permit you access to a wider population of consumers.
Using Colorado as an example, let's take a quick look at the application process and some of the fees associated with opening a marijuana dispensary.
Recreational:
Step One: Learning how to open a marijuana dispensary requires you to fit the defined criteria.
This includes:
Being a Colorado Resident at the time of application and two years previous
Being an adult aged 21 or over
Not having any felony drug convictions within 10 years of the application, or 5 years from the date May, 28 2013, whichever is first. (Cannabis convictions are not likely to be preventative at this point, just slowing)
No other felony charges within five years preceding the application
Preventing those who have a criminal record indicating poor moral character from being able to finance, in full or partial, the operation of a dispensary
Ensuring that the applicant is of satisfactory reputation, seen in good moral character
Ensuring that those with a nefarious criminal history are not employed by, assisting, or financing the proposed business
Not being a sheriff, deputy, police officer, prosecutor or an employee of the local and/or state licensing authority
Not to employ persons who fail prove good moral standing and reputation through a criminal history check
Step Two: When learning how to open a marijuana dispensary, the next step is to begin the application process.
By this point in learning how to open a marijuana dispensary, you'll need to have the location and property chosen (if not purchased). Opening a marijuana dispensary in some municipalities is prohibited, so be sure to check into where you can operate as well as business zoning requirements. I recommend you review the application process before beginning, as it should help to answer how to open a dispensary. Just know that you are going to be faced with a lot of legal and regulatory information. Speaking with a lawyer, given the dubious legal status of marijuana, is always a good choice.
If you are wanting to know how to open a marijuana dispensary, you'll need to fill out the following:
Retail Marijuana Business License Application
Statement of Understanding
Colorado Associated Key Marijuana License Application
Marijuana Ownership and Funding Certification
Step Three: Set an appointment.
After you've collected all the necessary documentation and completed the applications, the next step in opening a marijuana dispensary is to set an appointment with the state licensing agency. The how to open a dispensary' process reaches its first legitimate interaction with the governing regulatory agencies at this stage.
You'll want to email [email protected] to set up the appointment. By this point in opening a marijuana dispensary, you'll need to have the name of the business, the relevant parties (owners or otherwise), the reason for the application, the property information, proof of necessary capital, and your contact information.
Step Four: Pay the application fees
Learning how to open a dispensary in Colorado requires that the owners pay various fees throughout the life of their business, starting with the application. Application fees in Colorado are as follows:
$2500 for the Application
$2000 for the License
$2500 for local fees
These are to be paid upon successful review of your application. You may check out all the various fees and breakdowns here.
Conclusions
Learning how to open a dispensary varies greatly dependent on the place it operates. As you can tell, the process is highly regulated and, thus, the business owner bears the cost initially.