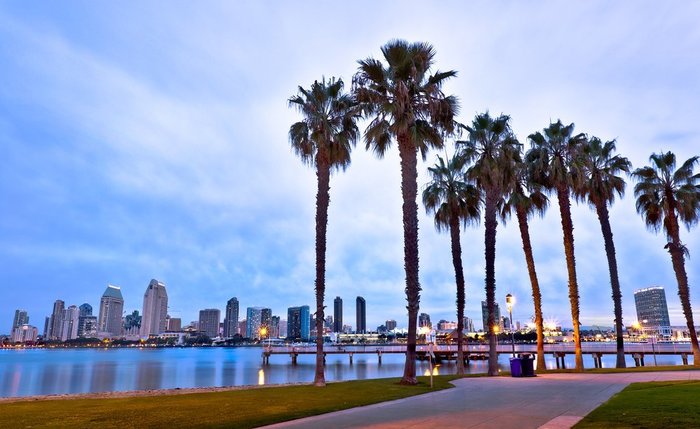 Have you been looking into how to get a medical marijuana card in San Diego, California? There's a lot of information on how to get a medical card in California that you could rely on, but most of these guidelines don't provide comprehensive outlines of all the things you need to do to ensure your application is approved. Below is a comprehensive review of all the steps you need to take to get a medical marijuana card online in San Diego.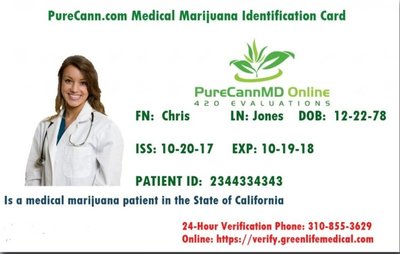 If you know you want an online medical card in San Diego, click here.
If you know you want to talk to a doctor on the phone for a renewal in San Diego, click here.
San Diego County provides Medical Marijuana Identification Cards under a program that gives individuals voluntary registration. This is in line with the Compassionate Use Act
Brief Background
Voters in California went to the ballot in 1996 and passed Proposition 215, which is also referred to as the Compassionate Use Act. Under this Act, all Californians are allowed to possess or cultivate marijuana for medicinal use, with the recommendation of a physician. This means that in 2018, you still need to get a medical marijuana card to access better support. You might want to know the easiest place to get a medical marijuana card in San Diego, and this review gives you a clear recommendation that will help you move faster.
Why You Need a Medical Marijuana Card in San Diego in 2018
Before you understand how to get a medical card in California, you should also learn why the card is necessary in the first place. In California, the accepted legal requirement for one to buy medical marijuana is through a physician recommendation. This is true for individuals in Chula Vista, La Mesa, El Cajon, University City, Mira Mesa, Point Loma, Coronado, and Carmel Valley.
However, having a medical marijuana card means you are more recognizable to law enforcement than when you rely on a doctor's recommendation. Additionally, before you get a medical card online in San Diego, you should understand that you are not necessarily required to see a 420 evaluations San Diego professional.
New Medical Marijuana Laws in California
You also need to understand the new laws released to govern medical marijuana in California. These rules cover the use of San Diego medical marijuana cards as well as possession and transactions involving medical marijuana.
Shops Are Required to Only Give Free Marijuana Products to Caregivers and Medical Consumers.
Fees were scaled out, and costs for annual licenses start at $800 for the transportation of cannabis valued at $120,000 or more if the business has been doing many activities and earning more than $4.5 million annually.
Expect to see an interruption in cannabis events as businesses are also charged a fee to host events.
These rules could change prices from time to time, so you need to identify a dispensary that can give you a perfect service at your budget levels.
Benefits of Getting a Medical Marijuana Card in San Diego
If you have been thinking about medical card renewal in San Diego, you probably need to review the benefits you could be getting with a new medical marijuana card in 2018. Below are some of the ways this could benefit you, including saving on costs.
With a medical marijuana card in California, you can access better cannabis. What is sold in San Diego dispensaries comes from high-grade strains with good THC:CBD ratios.
Getting a medical marijuana card in San Diego will also benefit you in terms of cost savings. You can save up to 20% in fees when you are taken as a medical consumer and thus not charged extra fees that recreational users have to deal with.
The number of plants you can grow is more than what is allowed for recreational users. And most importantly, recreational use is only available for consumers 21 years or older, but with a medical card, the age starts at 18 years.
Choosing a Medical Marijuana Doctor in San Diego
There are a number of points you might have to consider to choose a reliable medical marijuana doctor in San Diego. First is to check that the doctor's office is licensed by the Medical Board. This ensures that all confidential information you share remains secure and private and that your cannabis recommendation in verifiable. A good doctor will be available whenever you have an issue and should be willing to assist.
Guidelines
Though it is the duty of the physician to recommend medical marijuana, the doctor has to follow some set guidelines that are required across the medical field. This process is not always about just going to see the doctor then leaving with a prescription. You have to be evaluated so that the doctor can access your medical history and confirm that you indeed are eligible for medical marijuana. While undergoing this process, make sure to tell the doctor about any other treatments you might have tried.
Additionally, medical marijuana physicians can choose to prescribe oral cannabinoids instead of dried marijuana if they find this as the most suitable route. What's more, you get your card with assurance that you will not fall into any legal issues.
Procedure for Medical Card Renewal in San Diego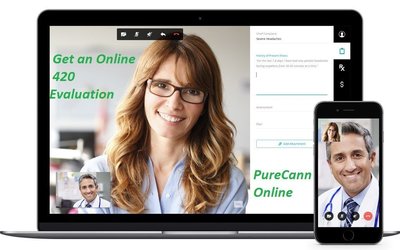 Although many people reading this are looking for the easiest place to get their medical marijuana card in San Diego, there are those who would also like to know how to go about renewing their medical marijuana cards. This is no difficult process: sign up online, speak with doctor, get your medical card emailed, and use it the same day.
Online Medical Card Renewal in San Diego
If you need a doctor's recommendation in 2018, you then need to consider either getting a new card or renewing the one you already have. The reason you need to renew your medical marijuana card is that it's only valid for one year. Before it expires, it is advisable to visit the 420 doctors online for recommendation to help you renew your card.
Get Online 420 Evaluations in San Diego and Save Time
The online procedure discussed above is pretty much all you need, and your recommendation could be completed in a matter of minutes. What typically makes things more difficult are the San Diego 420 evaluations that you have to complete. The conventional way of doing it includes traveling to a clinic where you will have to again schedule an appointment with a doctor to have the evaluations conducted. This is a tedious and time-consuming process that can be bypassed by opting for online medical card California dispensaries. Log on to purecann.com and fill out the online renewal form and you will receive a call from a doctor within minutes. This procedure is completed on the same day and you'll have your card renewed in no time.
Application Procedure for San Diego Medical Marijuana Cards
To apply for a medical marijuana card in San Diego, California, make sure you meet the California Medical Board medical condition requirements before you proceed. The conditions that qualify you to receive a medical marijuana card are listed below. These same restrictions apply even if you're just seeking medical card renewal San Diego.
Qualifying conditions can be found here.
Application process
If you know you want an online medical card in San Diego, click here.
If you know you want to talk to a doctor on the phone for a renewal in San Diego, click here.
You'll need to:
Provide a completed application form
Provide a government-issued photo ID (e.g. your current valid driver's license)
Attach proof of residency (e.g. valid motor vehicle registration, utility bill, etc.)

Get a Medical Card Online in San Diego, 100% Online
By far, the online application is the most convenient process for receiving a medical marijuana card. Many people would like to process their card applications through a simple and efficient process, and none offers a better solution than going for one of the websites available that offer online evaluations and recommendations. Purecann.com is one of the San Diego medical marijuana dispensaries that allow you to schedule a call or online chat where you will talk to doctor who will help you get your recommendation. Here is the simple procedure you should know about.
Get a Medical Card Over the Telephone in San Diego
You log on to the site and click on the "Request a call back" tab. This will redirect you to a form that takes less than three minutes to fill out.
A doctor will call you to get your interview started.
Once you share your information with the doctor, your application is completed and your medical marijuana card is emailed to you on the same day.
Note that you only pay after approval.
This process is simple and convenient, especially if you would not like to keep searching for San Diego medical marijuana doctors in their offices. In fact, it is also cheaper, as you don't need to spend money traveling from one clinic to another. Everything, including processing your card, is completed after you have submitted your information online. The process is the same even when you are looking for medical card renewal in San Diego. Purecann.com allows you to process your application both over the phone and through their online portal.
Processing San Diego 420 Evaluations Online
You might need a medical recommendation from a clinic while applying for a medical card in San Diego. There are many clinics that offer online medical card California 420 evaluations that allow you the convenience and privacy you need.
One that has been offering such a service is purecann.com, which is available across California. This process allows you to get your recommendation card without the need for appointments, and you are billed only after approval. You are connected to the doctor through video chat, and all questions relating to your conditions are handled live by the professional.
You could also fill out the form, and once it's received, the doctor will place a call to ask some questions. Your recommendation is issued on the same day after the interview, with no delays. This is a much more convenient way to process the evaluations, as everything is done at the comfort of your home.
Get a Medical Card in Chula Vista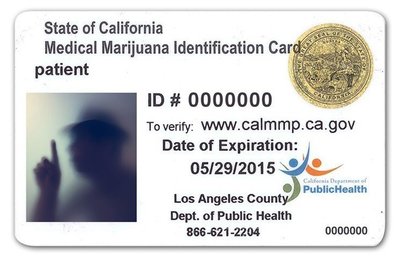 If you reside in Chula Vista, you could easily apply for your medical marijuana card by identifying a clinic within your area that could help you process the application. Like in the case above, purecann.com could be your perfect choice as they could also help you get a medical card in Chula Vista. Your best bet is to focus on services that do 420 evaluations for Chula Vista online.
Those from La Mesa could also get 420 evaluations for La Mesa clinics that are based online. The reason is that they ensure a seamless application process, and your card is issued within a shorter timeframe. It's more about how well the clinic is able to conduct the evaluation and their appreciation for urgency.
What If I Don't Have Internet Access to Renew My Card?
Even if that's the case, you have no reason to worry. If you understand how to get a medical marijuana card in San Diego, CA, over the telephone, then you should have no issues processing the renewal of your card. All you need is to visit your nearest clinic, most likely the one that you applied at in the past, or one that has good reviews from users you know.
Where to Buy Medical Marijuana in San Diego
After you are issued a medical marijuana card by a doctor, you legally are allowed to buy medical marijuana from San Diego medical marijuana dispensaries that are approved and certified. You can find many of these dispensaries online. Leafbuyer.com gives you a good way to search for San Diego medical marijuana dispensaries, as it lists some of the best in your area. You can also get amazing cannabis deals that will leave you with the satisfaction you're looking for.
Choose the Best San Diego Medical Marijuana Dispensaries
There are many medical marijuana dispensaries in San Diego, and this alone could complicate your search for the best place to buy medical marijuana. If you are having such a problem, don't worry; there are online review sites that help you identify the most suitable San Diego recreational dispensaries as well as those that offer medical marijuana. Read reviews on Leafbuyer.com before you choose any dispensary for medical marijuana in California.
Find More Deals in San Diego on LeafBuyer.com
LeafBuyer.com also gives you access to incredible marijuana deals across the country. Our collection of deals includes deals on medical marijuana cards in California, as well as countless marijuana products for both recreational and medical purposes. What's more, you also get a chance to be part of organized events that could help you access more offers and learn more about medical marijuana.
Purecann.com is a proud partner of Leafbuyer.