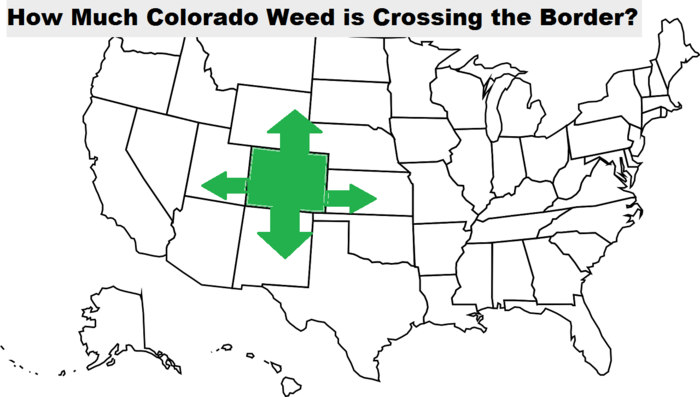 Remember last March, back when the state of Oklahoma and the state of Nebraska tried to take the state of Colorado to the Supreme Court over the amount of weed crossing the Colorado border into their states? The U.S. Supreme Court on declined to hear Nebraska and Oklahoma's proposed lawsuit against Colorado's legal marijuana laws by a 6-2 vote, but that doesn't mean that our weed isn't leaking into neighboring states. Heck, if you look at any out of state pot smoker's Instagram, you can see dispensary branded concentrates as far southeast as Florida, which says a lot. The last time I visited Ohio even, we were smoking concentrates from Native Roots. So the question is: Just how much weed is actually crossing Colorado borders into neighboring states?
Colorado weed has been smuggled in almost every way you can imagine. If you can imagine it, it's definitely been done. Everything from the US mail, peanut butter jars, cars and trucks, bags of chips, and even airplanes. Yes, even airplanes – a pilot in 2015 confessed he used his skydiving planes to deliver nearly a ton of recreational Colorado weed to buyers in Texas and Minnesota, court records show. Smuggling weed has been an issue in Colorado since we were a medical only state. The reason is supply and demand. We have always had a surplus of weed, and the weed here sells for much lower prices at dispensaries than for example dank weed on the black market in a state that weed is completely illegal.
Essentially, people who live in Colorado can buy several ounces of weed per day (due to a legal grey-area), including other forms of cannabis, like concentrates, edibles, and topicals. They take these products and either hire a courier or use the US mail to ship colorado cannabis products across the country and turn a huge profit. The black market is still so much more profitable than the legal market, and for this reason, smuggling and the black market hasn't slowed down or been eliminated as it was initially projected to.
There's more to it, though. Authorities and members of the DEA say that Colorado cannabis growers are finding loopholes in Colorado's legal cannabis program, and they're producing marijuana that is destined for illegal export alongside the cannabis destined to find it's way to the dispensary across the street from your house. These growers are tempted by the high prices that Colorado's high-grade marijuana commands on the black market, which is why so many people put themselves in danger to move pounds and pounds of weed across the country. Return margins can be as large as a 300% ROI, which is why they're so willing to take these huge risks. For example, $1000 worth of weed for sale here would be worth $3000 in a state like Georgia, where there is no cannabis program in place.
"What we're hearing from out of state is that that best dope around is Colorado dope," says Tom Gorman, director of the Rocky Mountain High-Intensity Drug Trafficking Area task force, which operates in Colorado, Utah, and Wyoming. "It's high quality, and then you have the edibles and the hash oil."
Now, back to the beginning where we were talking about Oklahoma and Nebraska. Our high-quality cannabis has been steadily flowing out of state since we were medical only, but in 2014 when he first rec stores opened, we've seen a dramatic increase of pot leaving Colorado. Gorman's task force says that investigators in 2014 made 360 seizures of Colorado marijuana destined for other states, which is almost a 600% increase in the number of individual stops in 10 years. They seized about 3,671 pounds in 2014. But these reports are only from statewide agencies, not including ny data from smaller police departments that also take Colorado weed during routine traffic stops. Of the 360 seizures reported in 2014, 36 different states were identified as destinations, the most common states being Kansas, Missouri, Illinois, Oklahoma and Florida.
This information prompted the lawsuit from the attorney's general in Oklahoma and Nebraska. These states were having problems with overcrowded jails because of the overwhelming amount of pot smugglers they caught moving Colorado grass. In March of 2016, the supreme court denied to hear the lawsuit, but state officials in Nebraska and Oklahoma are still weighing their options.
This puts Colorado authorities on the defensive since Colorado residents against the legalization of marijuana were worried about this exact issue: that it would foster more drug-related criminal activity. It puts Colorado officials in a weird, defensive state since neighboring states were worried about the same thing. Colorado believes the neighboring states are making an issue out of a non-issue. "These guys are on the wrong side of history," said Mason Tvert of the national Marijuana Policy Project.
Colorado officials still believe that smuggling would stop altogether if the other states would legalize weed and change their laws to reflect that cannabis is a drug that everyone uses. There will always be a demand for it, and while it's illegal, there is money to be made and there will always be cannabis related "crime". Legalization advocates believe that the black market would disappear altogether if cannabis was legal all over the country, eliminating the need to smuggle weed from Mexican cartels and from other legal states, as well as put more money back into the states and their respective economies.
Alas, marijuana remains illegal in every state surrounding Colorado except for New Mexico, and law enforcement in those states are looking for it. The sheriff in Deuel County, Nebraska has an evidence room piled high with Colorado pot that his deputies have confiscated from drivers crossing the border.
"A big decision a jurisdiction has to make is how much money they want to put into going after those who participate in the black market or the gray market," said Beau Kilmer, the co-director of the RAND Drug Policy Research Center in Santa Monica, Calif. "It's not a surprise this is an issue."
Colorado allows adults aged 21 and over to grow and possess small amounts of recreational cannabis, but it's still totally illegal to grow large amounts without state approval, which is why Colorado believes that the commercial growers are to blame. Last year, investigators arrested 32 people and seized more than two tons of marijuana and $10 million in cash — from a single marijuana-smuggling operation.

"Illegal drug dealers are simply hiding in plain sight, attempting to use the legalized market as a cover," Colorado Attorney General Cynthia Coffman said.
So How Much Colorado Weed is Actually Crossing the Border?
There is no real answer. All we know for sure is that a lot of weed is being reported found and confiscated in other states, but we still don't know exactly how much Colorado pot is selling on the black market and being consumed without ever being seen and reported by law enforcement. The only thing we can do is hope for legalization nationwide since there are too many people locked up in other states over possessing small amounts of pot. People are going to do what people are going to do regardless of whether or not the activity is considered legal or not. All we can hope for is legalization to put an end to marijuana-related criminal activity.