Looking for CBD In Denver? Discover CBD Has What You Need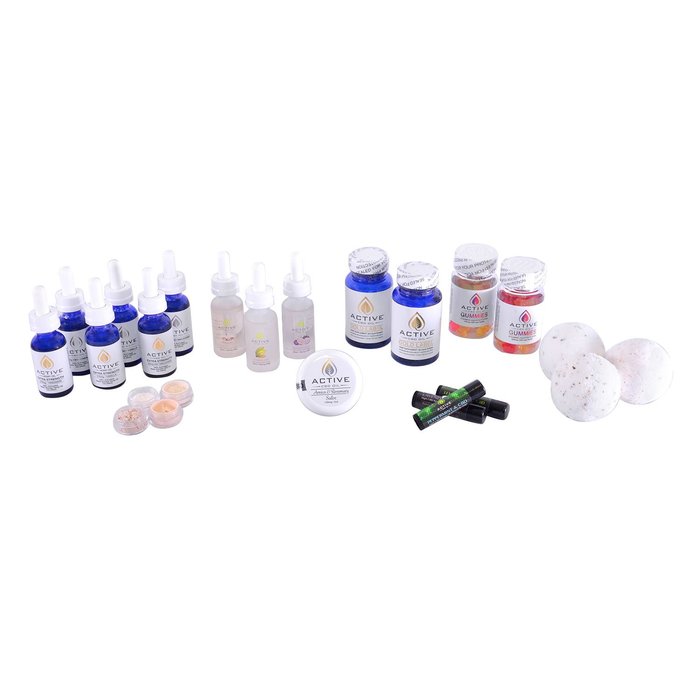 As Americans have begun to push for the legalization of recreational marijuana on both a state-by-state and federal basis, the focus has been on the benefits of cannabis and THC to the human body and mind. Advocates rally around marijuana's proven lack of addictive qualities and spout statistics of fatalities caused by weed in comparison with drugs like alcohol and tobacco.
However, what many people don't realize is that CBD, the nonpsychoactive sister cannabinoid of THC, is technically legal across the country – even in states that have yet to legalize medical or recreational marijuana – due to its hemp roots and lack of THC.
In fact, CBD is so popular among consumers that Discover CBD, arguably the largest chain of CBD stores in the United States (and definitely the largest chain in Colorado), has opened up locations across Colorado – one of the first two states in the US to legalize recreational weed.
Discover CBD: Locations and Products
Discover CBD was founded by a medical doctor, a marijuana and hemp horticulturist, and a medicinal supplement business professional who believe in the benefits of CBD and CBD products. With three locations in Colorado, the main goal of Discover CBD is to bring the health benefits of this cannabinoid to the masses without shoving marijuana logos or paraphernalia in their faces.
"We want to appeal to that group of people that may never step into a dispensary and are looking for a safe, comfortable location that sells only CBD oil and doesn't have pot leaves or 420 signs posted all over the place," says Sydney Parrish, the district manager.
Discover CBD sells all sorts of cannabis products available to consumers.
"We have THC-removed products as well as some with trace amounts," Says Parrish. "We also have water-soluble CBD products, full spectrum products, tinctures, capsules and everything in between, plus the lowest prices on 99% pure CBD isolate anywhere in the USA."
Their most recent store opened on South Sheridan Boulevard in Denver, and according to Parrish, it has a lot to offer. "We have the largest selection of the best CBD oil products in Denver," she says, "and if your down south we have two locations in Colorado Springs, too."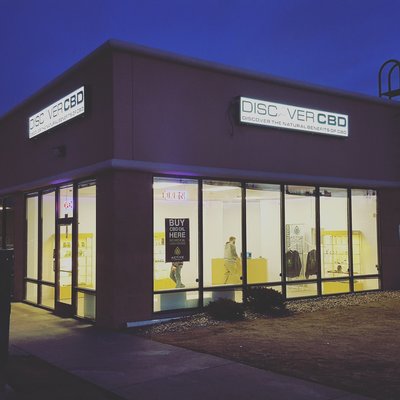 CBD Oils
Whether you visit the shops in Colorado Springs or in Denver, CBD oil is front and center on all of the sales racks. "Our most popular line of CBD products are the Active CBD Oil brand," Parrish says, "which is grown, extracted, and manufactured in Colorado and has water-soluble, full spectrum and THC removed products." Active CBD Oil comes in capsules, tinctures, concentrates, and topicals, and it's one of many product lines available through Discover CBD.
CBD Oil Capsules
If you're looking for a way to take CBD with your daily vitamin regimen, look no further than Discover CBD's selection of oil capsules. The online "menu" includes in-depth descriptions of oil capsules and why they might be the best approach for someone looking to take CBD, as well as common questions and behind-the-scenes information. Whether you're looking for a pure CBD oil capsule, a CBD oil isolate capsule, or a water-soluble CBD oil capsule, Discover CBD can point you in the right direction.
CBD Oil Tinctures
Another quick, simple, and effective way to take CBD is with a tincture. Their range of flavored and unflavored products can be dissolved into a glass of water or taken directly under the tongue, depending on the product in question. At Discover CBD, a wide variety of flavors and dosages are available for you to choose from, so go ahead and peruse their offerings. We wouldn't be surprised if most people can't pick just one.
CBD Concentrates
CBD oil often comes in the form of concentrates: hash, shatter, powder, or dabs. That's what's offered on Discover CBD's website under Pure CBD Oil. In addition to a solid selection of concentrates, Discover CBD includes an informational section on the top 10 conditions consumers commonly use high CBD hemp oil for.
CBD Topicals
If you'd rather not ingest your CBD orally, Discover CBD can still help. With a wide variety of topical creams, sprays, roll-ons, salves, and balms, you'll have no trouble finding the perfect product to fit your needs.
Fun Facts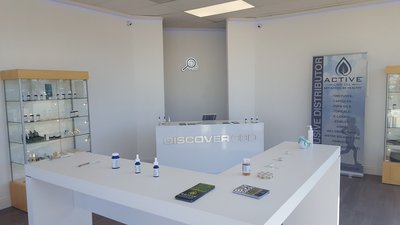 Thanks to the wide variety of CBD products available and their competitive pricing, we're officially sold on how awesome Discover CBD is. But if you still need some convincing, here are a few more great reasons to check them out:
Discover CBD donates to a new local charity every month!
Discover CBD and the Active CBD Oil brand have QR codes on every product, which you can scan to receive third-party lab results for that exact product and batch on the spot.
Discover CBD will start giving tours of their commercial kitchen and manufacturing spot in south Colorado Springs starting in July 2018.
Discover CBD has no green crosses, pot leaves or any other marijuana-related signs inside or outside their stores, which makes shopping for CBD products a more comfortable experience for those who do not use psychoactive (THC) marijuana.
Discover CBD has a regular retail showroom at each of their locations, and in Colorado Springs has a private customer meeting room where they can discuss CBD oil products with their customers in a private "closed door" setting if desired.
Discover CBD is open seven days a week, both at the stores and through their online chat on DiscoverCBD.com.
Discover CBD will ship any product anywhere in the USA for FREE when purchased in one of their brick and mortar stores, and when over $99 worth of products are purchased online.
So what are you waiting for? Discover CBD at Discover CBD today!
Discover CBD is a proud partner of Leafbuyer.com