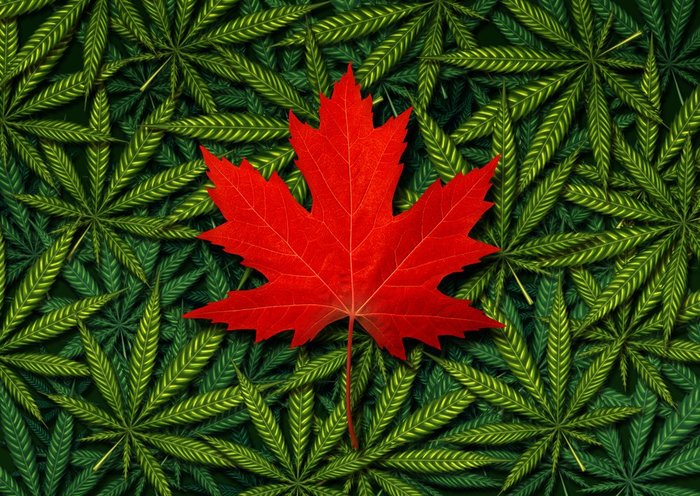 As first reported by the CBC, snags in the supply chains of legal retail pot stores across Canada are no big surprise for a fledgling industry trying to meet huge demand, according to market experts.
"There's very few industries that flip the switch on one day," said Jay Rosenthal, co-founder and president of Business of Cannabis, which produces content research and events related to the global cannabis industry.
"I think the idea that an industry that is really nascent can all of a sudden produce enough product for a fairly ravenous consumer audience  – there's gonna be challenges along the way."
Low Supply, Massive Demand
It became legal in Canada to sell recreational cannabis on Wednesday, October 17th, and Canadians lined up in droves at private and government-run shops that opened across the country. But some stores have reported being unable to keep up with demand.
Manitoba Liquor & Lotteries told The Canadian Press that it is expecting product shortages in brick-and-mortar and online stores could last "up to at least six months."
"Every province –  not just Manitoba –  is receiving substantially less cannabis than originally requested. ... Retailers in Manitoba will be receiving staggered shipments over the next few weeks (some daily) in an effort to meet their requests," said a spokeswoman for the Manitoba Crown corporation in an email.
Shortages Going into Next Year
An A B.C. Liquor Distribution Branch spokeswoman said, "Shortages are/were expected to impact all provinces, territories, and jurisdictions across Canada as some licensed producers also look at opportunities in overseas markets."
Licensed producers "point to a number of factors in reduced product volume and assortment, including issues with supply chain, lower than expected crop yields, and insufficient supply of packaging materials," the spokeswoman said in an email.
"We never really know when we're going to be getting our shipment," said Megan Kennedy, co-owner of St. John's-based The Natural Vibe. "But ... we did receive one box and that was gone probably within a half hour to an hour."
Growing Pains
Border Security and Organized Crime Reduction Minister Bill Blair said there are growing pains in a brand-new retail system. He said the provinces, territories and licensed producers had asked for 12 weeks to prepare after the legislation that legalized pot received royal assent in June, and the government gave them 17 weeks.
But industry expert Brad Poulos said one of the main reasons for the shortages is that the licensed producers are having a difficult time delivering the cannabis that's been ordered by the provinces.
Sold Before It's Grown
"Cannabis isn't as easy to grow as people think," Poulos said.  "Although the licensed producers have had several months to build up inventories, the demand is such that they're just not meeting it in the short run."
The problem, Poulos said, is the combination of big orders for companies that are still relatively new.
"A lot of this capacity that they're building hasn't yet been licensed, so we will see this problem diminish over the next few months."
"When the capacity is developed, there will be plenty of cannabis to supply the roughly seven million Canadians who demand it," Poulos continued.
Getting a License to Sell Takes Time
Demand for cannabis is around 800,000 to a million kilograms (882-1,102 tons) a year, but the producers plan to grow twice that amount, he said.
But receiving approval to sell cannabis can take time, and producers need two licenses to sell the product. First, Health Canada inspects a facility and grants the producers a licensee to cultivate. About 130 producers have that license.
Then, the producer must complete two grow cycles, and the government agency must be satisfied they are growing cannabis without mold, mildew or any pestilence. At that point, a producer is granted a license to sell, and only then can they make their cannabis available to the market.
Only Half of Cultivators Can Sell
So far, a little more than half the producers who have a license to cultivate also have a license to sell. 
It takes time to ramp up facilities to pass every level of Health Canada's regulation, Rosenthal said.
"And then you can sell it but then you actually also need to ramp up your production capacity. So most of these companies are really new and ramping up production is a challenge for any sort of agricultural-based enterprise."
"Turning on their jets"
Poulos predicted that given the shortages, Health Canada will be "turning on their jets" to license as many companies as possible.
"I've heard that from a couple of sources, that they just couldn't get through all of the paperwork and get all the approvals and the licensing done in time," said Jerome Konecsni, an industry expert and consultant.
"When you look at the bureaucratic processes, they only dedicate so many resources for processing all of the licenses and the regulatory approval."
Konecsni said he believes that within a year the regulatory approvals, processes and construction of new production facilities will be completed, meaning the supply chain will start moving more efficiently.