Tomorrow is April 1 (no foolin'), which means it's the unofficial start to the Centennial State's largest unofficial holiday: 420! Yesterday, Leafbuyer a look into things to do in Colorado for 420. Today, we'll take a look at Denver, the Mile HIGH City, Colorado's largest city, and cannabis epicenter.
Denver is the place to do things for 4/20, as marijuana enthusiasts gather for their love of ganja. Colorado's weed legalization has led to different opportunities for everyone from newbies to experts in cannabis culture. There are 5 must-do things to do for 420 in Denver, which all bring a new twist to the annual April celebration
420 Rally — Civic Center Park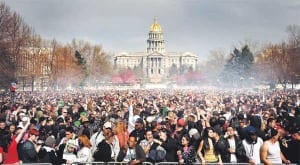 Each year, Civic Center Park fills up with thousands of people ready to commemorate their favorite holiday. The Denver event hosted an estimated 80,000 people last year for the free 4/20 Rally, whose smoke lingered in the air for hours. The event begins at 10 a.m. on Thursday and will feature vendors-selling food for munchies-searching guests and swag to conserve rally memories-as well as live entertainment. Perhaps the most exciting draw to the park will be a free performance by rapper Two Chainz, starting at 4:20 p.m.
420 Bazaar — Cluster Studios
The 420 Bazaar is an event taking place on April 22 and 23 at Cluster Studios and will offer many appealing aspects of an open market. Food trucks, vendors, music, tours, entertainment, art, and activities-all marijuana-related-are featured aspects of the bazaar. It's one of several activities associated with the World Cannabis Week, happening in Denver.
420 on the Block — Various Venues + City Hall
420 on the Block makes its first debut this year as "a multi-venue event celebrating the culture that is changing the world." 6 venues host a variety of musical acts including Rusko, Dumpstaphunk, and Del the Funky Homosapien. One ticket guarantees entry to all venues and acts. Block off your calendar from 4:20pm-2am, this is one you won't want to miss.
420 Eve on the Rocks — Red Rocks Amphitheatre
Red Rocks is a highly sought-out music venue near Denver, and 4/20 is no exception. This year's 4/20 Eve on the Rocks concert will take place on April 19, starting at 4 p.m. For $45 general admission, audience members can listen to smoke-friendly performances from Method Man & Redman, Flatbush Zombies with Curren$y, Futuristic, and RDGLDGRN (pronounced Red Gold Green) at their annual celebration. It's an ideal event for anyone planning to party their way into their favorite flower-friendly holiday.
Marijuasana Class
Denver is known for offering classes that combine cannabis and leisurely activities-there's Puff, Pass, Paint, as well as pottery, cooking, and crafting. One unique class is Marijuasana, a CBD-infused yoga class. This expressive experience, held every Tuesday from 6-7:30 p.m. marries the combination of two activities associated with relaxation and mind-expansion. Though visitors are expected to bring their own yoga mat and cannabis, $25 covers the cost of CBD tea and a vape pen to use during the session. To book, call 303-223-5903.
Pipemaking 101
Another class unique to the cannabis culture in Denver is Pipemaking 101, offered as a three-day intensive course. The event starts on Friday evening and goes into the weekend, where each session gives new information to the art form. The basics are covered — including safety and torch information-through the beginnings of glassblowing marijuana pipes. Materials, tools, and torches are included in the $399 price, and previous flame working experience is not a prerequisite.
Call 303-223-5903 to book a spot in the class.
When celebrating 420, Denver is the place to be. There's a wealth of activity, with cannabis-indulgent things to do for every kind of person, starting with these 5 activities. These are meant to be fun, inclusive, and innovative, with opportunities to explore the marijuana industry in a judgment-free zone.