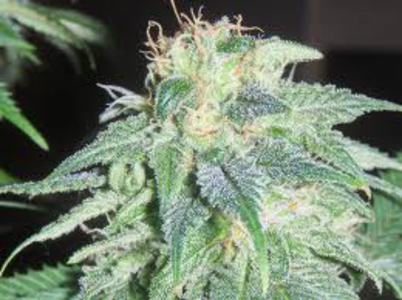 Indica Hybrid
Afghani x Brazilian x South Indian
White Rhino Strain
White Rhino gets its name from its horned nug shape and crystal coating of trichomes. The strain is favored in the cannabis community for its potent medicinal properties, skunky scent, and indica-style effects. Novice consumers should be warned of White Rhino's general potency and creeping high. White Rhino varieties regularly clock in with THC content over 20 percent, and the trichome count is indicative of potency as well. Medical patients favor the strain for treating insomnia, fatigue, and a lack of appetite, while recreational users who enjoy a significant body sensation consume White Rhino to achieve new states of stoned.
Medical
PAIN ANXIETY DEPRESSION
Flavor
SKUNKY SOUR SWEET
Effects
RELAXED EUPHORIC CHEERFUL
Overview of White Rhino
White Rhino is an indica dominant hybrid which derives its name from the appearance of its bud. This strain is usually 80 percent indica, and 20 percent sativa. White Rhino also gets its name from its silver coat of trichomes, which rivals any strain you may have seen previously. These nugs are clearly robust, and provide a satisfying crack upon breaking.
White Rhino's resin output is legendary, so expect sticky fingers if breaking up by hand. This strain produces a slightly sweet aroma, with a significant fruity twist. The scent profile is dominated by a woody earthiness, which can give way to strong skunk in some varieties.
The strain is famous for its higher THC percentages and regularly reaches THC content well above 20 percent. On average, the strain ranges from about 18 to 24 percent THC. White Rhino also has CBD content up to 0.2 percent, and 0.01 CBN content. Prizes for White Rhino include the High Times Cannabis Cup in 1996 and second prize in the Champions Cup in 2005.
Potential Positive Effects of White Rhino
Symptoms that medical and recreational users enjoy include happiness, relaxation, euphoria, and energy. Despite White Rhino's predominately indica genetics, the stain's cerebral stone reflects its slight sativa genetics. Due to the potency of White Rhino, beginner smokers are encouraged to take it one step at a time. White Rhino's high can take a couple of minutes to land but hits with gusto. When the strain lands, it can uplift your mood and simultaneously soothes the body's aches.
Potential Medical Effects of White Rhino
Due to the strain's heavy indica properties and higher THC percentages, medical patients choose White Rhino to relieve physical and mental symptoms. The narcotic-like stone is ideal for treating chronic and general physical pain, anxiety, depression, and stress. White Rhino's strong indica qualities also render the strain ideal for treating insomnia, fatigue, nausea, and a lack of appetite.
Potential Negative Effects of White Rhino
The greatest danger of White Rhino is a combination of dry mouth and couch lock that can prove quite unpleasant for inexperienced consumers.
The Lineage of White Rhino
White Rhino is a mixture of the infamous White Widow and a mystery North American indica strain. Green House Seeds claims that White Rhino is a mix between Afghani, Brazilian and South Indian strains. The Brazilian and South Indian genetics connect back to White Widow.
Growing White Rhino
White Rhino derives its name from the appearance of its bud. The top, pointed part of White Rhino plants should resemble the horns of a rhinoceros. White Rhino also gets its name from its silver coat of resin. The strain is also notable for its high yields - which can reach up to 900 grams per square meter - within nine weeks. Green House Seeds says that White Rhino best grows with the sea of green method.
Where to Find White Rhino
Since the 1990's, White Rhino has traveled across North America and gained fame in United States cannabis circles. These days, White Rhino is available in most developed legal markets, and packs a particular punch from Oregon and Washington cultivators.