5 Places to Find the Most Unique Weed Jewelry Online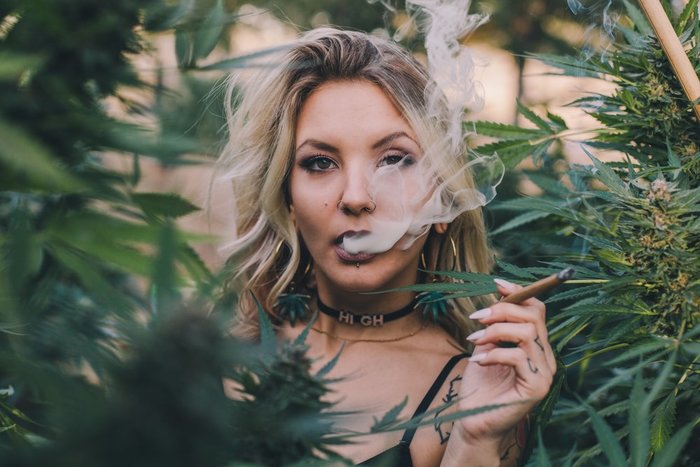 When most people hear the term "weed jewelry," they probably imagine Rasta beads strung on frayed hemp string – not the classy, unique weed jewelry of the modern era. Thankfully, as cannabis becomes more mainstream so does beautiful marijuana jewelry.
Designer brands have caught on to the beauty of the plant and are now making everything from gold pot-leaf earrings to inconspicuous joint clip necklaces. Whether you flaunt your cannabis use loud and proud or keep things on the down low, there is something for everybody when it comes to marijuana jewelry.
Weed Jewelry Inspired By The Beauty of Mary Jane
If you search Google for "marijuana jewelry + weed jewelry," the first site that pops up is Blunted Objects. This online store is like the Urban Outfitters of marijuana jewelry! Their offerings range from functional marijuana jewelry (that you can actually use to get high) to beautiful rings, necklaces, and earrings that show off the pot-leaf in style.  Some standout pieces include the vibrant Green Crack Leaf Earrings, Rose Quartz Rosary, and Micro Pipe Necklaces.
What's nice about Blunted Objects is that it has the same look as designer jewelry but at a much lower price point. According to their website, the designs were created in the hopes that the wearers could "instantly recognize likeminded people simply because they rep that iconic leaf."
If you like marijuana jewelry that has a bit of an edge to it, check out Bong Beauties. They only offer a handful of pieces, but what they do have can add a touch of Mary Jane to your accessory drawer without breaking the bank. One of their cutest pieces is a zinc alloy friendship necklace (that looks like a gold necklace). It's in the classic friendship necklace design – a split heart – with the phrase "Best Buds," and of course, two pot leaves. You can also purchase the same design as a key chain instead. Each item goes for less than $20, so it's the perfect funky gift at a low budget.
Other items offered include a pot leaf pin, Mary Jane resin ring, and a couple different styles of chokers with silver pot leaf pendants.
If you are looking to splurge on something really beautiful that's made out of real gold, diamonds, and gemstones, consider the handmade jewelry from Jacquie Aiche's Sweet Leaf collection. Pieces in this collection range from $700-$13,000 and all feature a beautiful pot leaf. This collection was made famous by pop icon Rihanna, and it offers a boho twist on some seriously high-quality jewelry.
The pieces offered in the Sweet Leaf collection are gorgeous, and two of the most unique necklaces are the Pave Sweet Leaf Shaker Necklace and the Sweet Leaf Lapis Potion Bottle Necklace. If you like marijuana jewelry that's a little more understated, you can also check out the Moonstone Teardrop Sweet Leaf Ring, which would look like a palm tree to unsuspecting eyes, or the Sweet Leaf Stack Rings, that could pass as a star burst.
Designer jewelry brands like Genifer M prove that weed jewelry has come a long way from being an afterthought beside the register at a head shop. In fact, according to her website, Genifer created her own line of jewelry because she was so tired of seeing the boring, mass produced pot leaf on every piece of jewelry.
The amazing jewelry designed by Genifer M features a contemporary take on the marijuana leaf. There are four designs to choose from and all feature a different variation of a marijuana leaf.
To top it off, Genifer M also offers a sleep pair of earrings that are inspired by the CBD molecule – perfect to wear to work because really, who is going to recognize what that is?
While Sweetflag only offers a handful of marijuana jewelry items, they are pretty much the sleekest, most beautiful, functional weed jewelry pieces you've ever seen.
One of their jewelry offerings is the Smoke Ring, which looks like a bar ring but easily transforms into a little something to hold your joint. The ring is made out of sterling silver and has a turquoise gem for a nice splash of color. Another piece of jewelry they have is a join clip necklace, the Golden Triangle Clip Necklace. This necklace is a beautiful metal piece, but it's also made with function in mind as it has a serrated metal tip to provide better grip.
Ideas for DIY Marijuana Jewelry 
There is no reason why Grandma's crafts can't intersect with cannabis jewelry! If you look up "marijuana jewelry" on Etsy, there are a few shops that carry leaves or buds set in resin. Those resin jewelry pieces can cost anywhere from $25-$50 but you can make them for pennies on the dollar using basic craft store supplies and fresh marijuana buds, leaves, or seeds. If you don't have the real plant materials to work with, you can always create interesting resin pendants with photos of cannabis.
If you enjoy crafting and want a piece of weed jewelry that is also functional, you can easily make a roach clip bracelet using nothing but a metal jewelry clamp and hemp string. You can even jazz things up with beading, wire, or New Age gemstones.
If you like the look of the metal jewelry from Blunted Objects and Jacquie Aiche but don't have big bucks to drop on jewelry, you can always make your own amazing pieces of jewelry with some high quality metal and a hemp leaf stamp. A hemp leaf stamp adds a touch of Mary Jane flare to brass, copper, aluminum, and other soft metals. You can even use a metal stamp on leather to make sleek cuff bracelets for a much lower cost than you might find in a boutique.