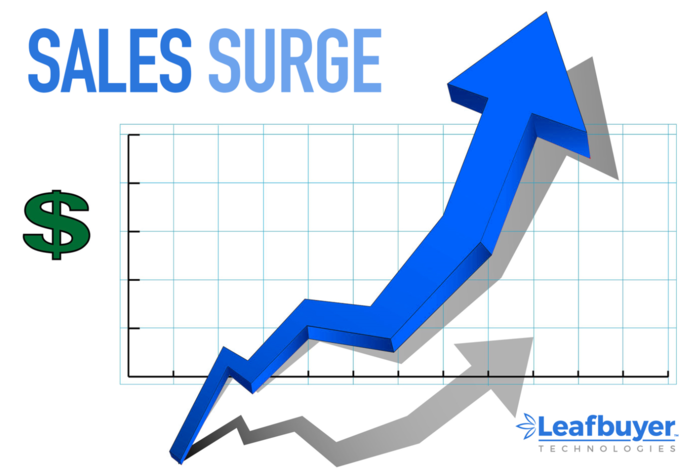 DENVER–(BUSINESS WIRE)–Leafbuyer Technologies, Inc. (LBUY) ("Leafbuyer"), a leading cannabis technology platform, announced that quarterly sales rose 42% in the quarter ending December 31, 2017. The increase reflects the cash sales booked in the quarter versus the same quarter of the previous year.
Leafbuyer Technologies, Inc. Continues Growth, Latest Quarter Up 42%
"We are pleased with our continued growth as we scale across the country in legal cannabis markets," said Mark Breen, VP of Business Development. Looking forward, the company reported that sales in California, Oregon, and Washington are trending above expectations and the order funnels for those states is expanding. "Expansion in California is just getting started and the progress we are making in other western states is encouraging. We have hired three additional sales reps in Southern California and are looking to add more. The legalization of adult-use in California has made that market our top priority," added Mr. Breen.
"We are establishing beachheads in these states and with a firm foundation we will then further expand our sales and marketing operations this year. We will also be adding some exciting new features to our platform soon, which should allow us to expand our reach for marketing dollars," said Kurt Rossner, CEO of Leafbuyer.
The California adult-use market that started in January 2018 is expected to increase to over $4 billion by 2021 and make up the single largest market in the country.
About Leafbuyer Technologies, Inc:
Leafbuyer.com is one of the most comprehensive online sources for cannabis deals and information. Leafbuyer works alongside cannabis businesses to showcase their unique products and build a network of loyal patrons. The company's online network reaches millions of marijuana consumers monthly. Leafbuyer is the official cannabis deals platform of TheCannabist.co (owned by The Denver Post), Voice Media Group and Grasscity.
Learn more at leafbuyer.com.