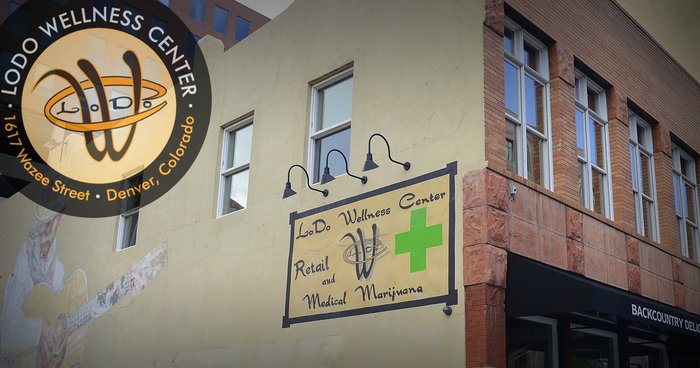 Downtown Denver is ripe with dispensaries seemingly at every corner. None, however, offer the comfortability of LoDo Wellness Center.
With so many tourists flocking to the city for Marijuana or 420-themed Tours and other activities of the like, it is sometimes difficult to find a dispensary that does not solely cater to that demographic, especially on short notice while walking around downtown. One day after class, I was headed towards Union Station and looking for a dispensary. I happened to get lucky – I saw that a dispensary in downtown Denver was close by on Google Maps, and that dispensary was LoDo Wellness Center.
Although the lovely mural on the brick wall of the building is hard to miss, the entrance to LoDo Wellness Center may not be as obvious, as it is located downstairs. Walk through the main glass doors on the sidewalk to enter the dispensary.
Shop hours are 10am-7pm seven days a week, and is handicap accessible from 10am-6pm or by appointment, so don't let the stairs deter you from shopping! Additionally, this is a cash-only dispensary, but never fear, they have an ATM on site, and there are plenty of bank ATMs in downtown Denver.
If you are traveling by car, there's free parking! LoDo Wellness Center is both a medical and recreational Denver dispensary, which I like. I'm a medical cardholder and due to the frequent tourists, it sometimes feels like there are only recreational shops around downtown Denver. They have high-quality flower and a wide variety of strains, as well as plenty of edibles to choose from.
LoDo Wellness Center is located right near Union Station and the light rail, making it the perfect dispensary in Denver to stop at for both a local on the go or a tourist just arriving in town. The atmosphere of the shop is very comfortable, it is sort of an escape from the hustle and bustle of downtown.
Discounts
Medical consumers receive member pricing on their first visit! Plus, students and veterans receive member pricing everyday! This is amazing and I think every shop should provide students and veterans a discount. Check out Lodo Wellness Center's menu and deals on LeafBuyer, featuring a $35 hash deal and $14 grams of recreational flower.
Medical AND recreational consumers may even order ahead online if they so choose, which is a nifty feature that not every dispensary has on their website. I have only seen it for available for medical consumers, if any. Another awesome discount LoDo Wellness Center offers is 10% off with a ticket stub from any sporting event in Denver – Rockies tickets, Nuggets tickets, Avalanche tickets, etc.
This discount can only be redeemed within 48 hours of the sporting event attended.
Member Perks 
If you choose to select LoDo Wellness Center as your caregiver by becoming a member, you'll receive a free 1/8th with your first purchase! Additionally, every Friday, Saturday, and Sunday you'll receive a free pre-rolled joint with any purchase over $20. Plus, receive discounted member pricing everyday.
Hours
10am-7pm everyday
Location and Contact Information
LoDo Wellness Center
1617 Wazee St. Unit B
Denver, CO 80202
Phone Number: (303) 534-5020