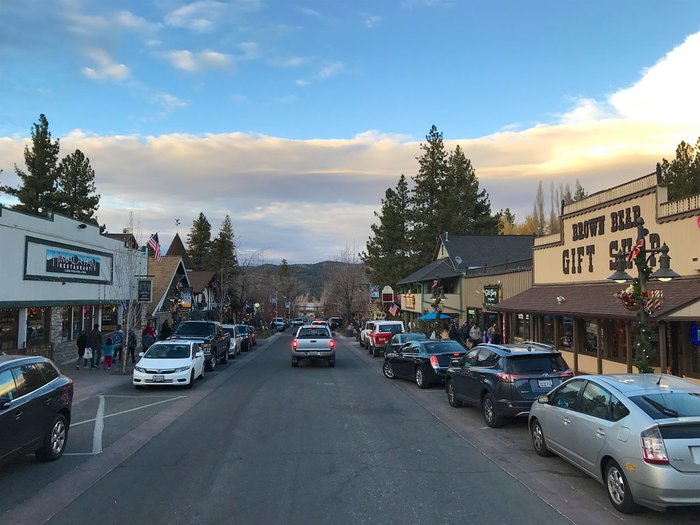 As spring settles upon the San Bernardino Valley, there are plenty of reasons to visit Big Bear Lake. Not only does the small town boast the largest recreational lake in California, Big Bear offers many appealing attractions: from fishing to hiking to mountain biking, there's an abundance of activity. For those looking to take a more relaxing approach to the all-natural recreation, Big Bear Lake has a variety of marijuana dispensaries and deliveries available, at affordable prices. From edibles to top-shelf strains, the cheapest weed in the Cali Mountain regions is just a phone call or a click away.
There are several distributors within the Big Bear and surrounding areas with competitive prices and a wide array of options, suiting different cannabis needs.
Take Over Meds
Take Over Meds, a delivery-only marijuana service and private co-op have been in operation since 2009. They offer a 10% discount for customers with disabilities, seniors, veterans, and cancer patients, plus a $5 off coupon for first-time visitors. Boasting sincere customer service, Take Over Meds grows all of its plants in-house, selling flower, edibles, topicals (starting at $28), extracts, and $7 pre-rolls.
There is no minimum order or delivery fee, and frequent visitor cards are available. They do accept credit and debit cards, which can be a rarity for marijuana dispensaries. Take Over Meds is open from 8 a.m. to 8 p.m. Friday through Wednesday, and noon to 8 p.m. on Thursday. They can be reached at (909) 713-4665.
| | | |
| --- | --- | --- |
| | Flower | Extracts |
| Price | $25-55 per 1/8 oz. | $20-65 per gram |
SkyHighmeds Delivery
SkyHighmeds Delivery is another Big Bear service for cheap California greenery, serving the San Bernardino mountain areas. Open from 9 a.m. to 7 p.m. weekly, SkyHighmeds offers similar medical cannabis products-menu items feature flower, edibles, topicals, sprays, and oils, and have a rotating specials list. Their gummy menu stands out: from $3 to $10, patrons can pick out gummy bears, worms, rings, and more, perfect for any sour or sweet tooth. Beef jerky too stands out, at $10.
SkyHighmeds does have a minimum of $30 for delivery, but they make up for it through their listing of several discounts: an $85 new member special, 10% off $200-plus, 15% off $400-plus orders, and $10 off for recycling 10 containers, with coupon codes available online. To place an order, contact (909) SKY-HIGH or email [email protected]
Kush Concepts
Kush Concepts is a walk-in dispensary open 24-hours in San Bernardino–a 40-mile drive from Big Bear. The store is extensive, with over 35 types of indica strains, 11 sativas, 22 hybrids, 98 different extracts and oils, 32 edibles, and 11 topicals. There are even affordable options for pre-rolls, as joint-seekers can choose between the $1, $3, $5, $8, and $10 options.
Thrill seekers can spin a wheel for free gifts, which is considered a highlight for returning customers. Kush Concepts brags that new strains arrive daily, so there are vast options when picking and choosing which products to try. According to user Lisathapoet, "Day or night, these guys are there and ready to serve you! Friendly staff, great deals, and quality marijuana! Can't be beat!" For more information, go to their website at kush-concepts.com.
| | | | |
| --- | --- | --- | --- |
| | Flower | Edibles | Topicals |
| Price | $20-50 per 1/8 oz. | $5-30 ea. | $2-40 ea |
Cold Creek Organics
Another dispensary option is Cold Creek Organics in Highland–a 32-mile drive–which acts as a viable source of reliable, close-to-the-mountains cannabis. Though the ease of delivery is removed, Cold Creek has deals that make window shopping appealing. They offer several pocket-friendly perks: first time visitors receive a gift bag with a minimum purchase, their 'Waxy Wednesday' special deducts 10% on all concentrates, and the store has an appealing happy hour–Monday through Friday shoppers can enjoy 2 grams of top shelf strains for $25, from 4:20 to 6:20 p.m.
Cold Creek Organics also has a $45 cap on all 1/8 oz. products, which is an appealing deal unique to this dispensary. Grams of indica, sativa, and hybrids are all priced the same. A must-try is their Medipop Caramel Corn for $20. Their Facebook page, @ColdCreekOrganics, posts updates regularly.
| | | | |
| --- | --- | --- | --- |
| | Flower | Edibles | Extracts |
| Price | $45 per 1/8 oz. | $4-20 ea. | $15 per gram |
Green Giant Health Care
Green Giant's products range from $1 a gram to $289 an oz with a $50 purchase minimum. Some options include $119 for 1/2 oz. of a top-shelf flower (strains including Gorilla Glue, Girl Scout Cookies, and Red Dragon), a vape kit for $60, a free gram of shatter after purchase of two at regular price, and 5 grams of top shelf Mike Tyson OG or Charlie Sheen OG for $59, among others.
Apple Box Collective
Apple Box Collective is delivery-only and has a wide range of affordable cannabis products with a $50 delivery minimum. Their website lists over 96 edibles, starting at High Batter Cookies for $3. Edible categories include capsules, gummies, chocolates, hard candies, infused goods, and tinctures. There's a wide range of "potent cannabis oils and extractions for vaporization," beginning with $10 Bonehead Hash Bubba Master.
There are topicals available for purchase as well. From balms to lotions, these products start at $12. Apple Box also sells apparel, glass, and tools for growing. The Riverside company delivers seven days a week, 365 days a year, from 7 a.m. to 10 p.m. to surrounding areas, including Twin Peaks, Skyforest, Riverside, Patton, Colton, San Bernardino, Bloomington.
A rendezvous with California marijuana does not have to trade ease for price. From delivery services to well-known dispensaries, Big Bear has access to the cheapest weed options, without sacrificing quality, customer service, or access. Between affordable cannabis and beautiful sights, the natural, green appeal of Big Bear Lake cannot be beaten.