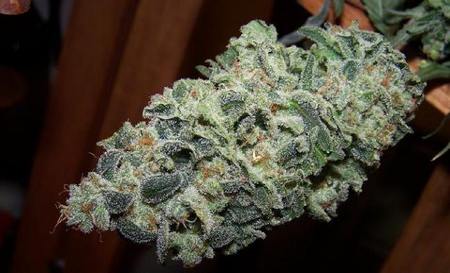 Alaskan Thunderfuck Strain
Sativa
Afghani x NorCal x Alaskan Landrace
14.65% THC

0.82% CBD

0.23% CBN
Medical

ANXIETY

PAIN

DEPRESSION
Flavor

NUTTY

PINE

SWEET
Effects

EUPHORIC

HAPPY

CREATIVE
Alaskan Thunderfuck, also known as ATF, is a robust sativa-dominant hybrid. These beautiful buds have a strong aroma and colorful appearance. Creative workers, like artists, musicians, and writers, may enjoy the energetic, creative head high to help break through the toughest mental blocks.
Overview of Alaskan Thunderfuck
A strain so lovely, they named it twice! The strain with three names packs high amounts of potency in its frosty buds. Alaskan Thunderfuck, (also known as ATF, Matanuska Thunderfuck, and Matanuska Tundra) is an esteemed sativa-leaning strain stemming from the Matanuska Valley in Alaska which is a cross between an unknown North American sativa, Afghani, and a Russian Ruderalis. ATF is a famous afternoon or daytime cannabis strain due to its creeping stony effects and lingering sativa high.
The strain is said to induce a massive sense of physical relaxation. ATF nugs sprout varying colors of green and streaks of orange hairs. When grown in colder climates, ATF can demonstrate darker purple hues. The high resin count of the bud also fosters a shiny, frosty coat on well-grown ATF strains.
In addition to the strain's striking appearance, ATF emits an enticing earthy and slightly citrus scent. Depending on the batch, users also get notes of wood, pine, and flowers. Smokers can get a medley of flavors after smoking, including sweet orange, banana, and sage. When smoked, ATF gives off a strong scent of wood, pine, citrus, and diesel. THC content can range from 14% to 18%. ATF's sativa genetics foster a heady uplifted high to jump-start your morning activities effectively.
Famous for decades, this marijuana strain was a feature in High Times in the mid-1970s, which initially planted the strain into the cannabis world, where it has grown ever since.
Potential Effects of Alaskan Thunderfuck
ATF is the perfect strain to enjoy during outdoor activities like hiking and concerts. Users can also become chatty and sociable. The strain commonly fosters a sense of euphoria, creativity, energy, and relaxation.
Potential Negative Effects of Alaskan Thunderfuck
Like other sativa strains, dry mouth and red eyes can be common side effects. Users can occasionally experience anxiety, paranoia, and headaches after consuming too much ATF. Due to the nature of the strain and its potency, new smokers should be warned to monitor their consumption.
Lineage of Alaskan Thunderfuck
The exact genetics of ATF offer debate among the cannabis community. The generally accepted story is crossing a marijuana strain from Northern California with a ruderalis variety from Russia. Ruderalis is a contested subspecies/related species of cannabis native to Asia and Central/Eastern Europe. Due to shorter growing seasons and the extreme nature of the climates, ruderalis varieties are smaller and shorter. Generally, ruderalis naturally possess lower levels of THC.
Eventually, in the late 1970's, the sativa version of Alaskan Thunderfuck was mixed with an Afghani plant to foster a stronger, more balanced strain.
Growing Alaskan Thunderfuck
Originally bred to withstand the climate in Alaska, this is a hearty plant which loves cooler, outdoor weather. Said to produce massive yields when grown outside, the plant sees an average of 32 ounces in each plant outdoors, with an average of 16 ounces per square meter when grown indoors.
When growing indoors, cultivators can expect a harvest in eight to nine weeks, while outdoor growers should expect to harvest around October.
Where to Find Alaskan Thunderfuck
Naturally, the most common place to find ATF is in Alaska. The hearty plant loves the Northern climates. However, this strain is also common in several regions in Canada, Washington, Oregon, Colorado, and is even making its way to Arizona and Nevada.