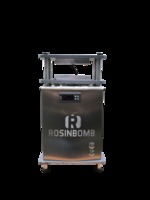 Trimco - Rosin Bomb Rosin Press M-50: $100/day
View Manufacturer Profile
Where to Buy
Description:
Don't have the space for big and bulky machine. The RosinBomb M-50 can sit on a table without taking up any space at all. It
We have the answer! This little power house can fit in a backpack, weighs only 35 lbs and will apply 5000+ lbs of force!!!! No thats no typo.... It weighs 35 lbs, and will apply an almost noiseless 5000+ lbs of force with 3.5 amp power draw at max press.
Get with the best and press with no stress.
Able to crush up to 14 grams depending the density of your material
Pulls only 3.5 amps at full pressure
Only 16 inches tall
Weighs in at 35 lbs
Package Deals
-DeBudder & Trimmer ($275)
-Pollen Master & EZ Press ($250)
-Two Trimmers ($350)
Additional Information