Northern Lights - Alameda

183 W. Alameda Ave,
Denver, CO 80223
720-277-0467

Retail

Medical
Our company specializes in high quality marijuana strains, and outstanding service. We harvest weekly to ensure the freshest cannabis flower possible. We can also weigh our flower in any dollar amount up to what is legally allowed. Our Denver location has conveniently designated a parking lot in the back of the building. This dispensary is perfect for people who want better service, knowledgeable budtenders, and a family like atmosphere.
Member Since: December 2016
Hours of Operation
Tuesday
9:00 AM - 9:50 PM
Wednesday
9:00 AM - 9:50 PM
Thursday
9:00 AM - 9:50 PM
Saturday
9:00 AM - 9:50 PM
This dispensary does not have any deals online.
You can find deals now at these nearby businesses:

Top Shelf
0.3 mi from this location

LivWell - Broadway
0.3 mi from this location

Buddy Boy Brands - Kalamath
0.5 mi from this location

Karmaceuticals
0.5 mi from this location

Herban Underground
0.5 mi from this location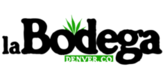 La Bodega
0.6 mi from this location

Universal Herbs - Jason
0.7 mi from this location

The Herbal Cure
1 mi from this location

Lightshade - 6th
1.2 mi from this location