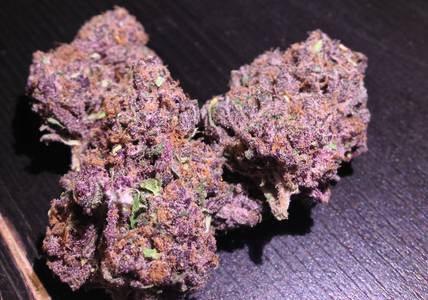 Indica
Mendo Purps
Purple Urkle Strain
This Strain is sometimes too strong for some people. Recommended for night time use, it is long lasting and works great for getting rest.
---
Sometimes, the best strains in life rhyme. Or almost rhyme. Purple Urkle, a skunky and deeply relaxing indica, is known for its tranquilizing effects for the mind, soul, and body. It's rumored that the strain emerged from the Emerald Triangle, the sacred cannabis cove of California. Hailing from Humboldt county, Purple Urkle is known throughout different regions as "Purple Urple" and/or "The Urkle." The strain's location of origin muddles the public's knowledge of Purple Urkle's genetic history. Most cannabis connoisseurs consider Mendocino Purps to be Purple Urkle's parent. Generally, it's understood that the strain popped onto the cannabis market in the 1980s. Smokers and industry veterans notice potency, pain relief, and sedation notes reminiscent of Mendocino Purps. Purple Urkle's similarly striking color connects the two strains. Either way, Purple Urkle stands out in the industry as a pioneer in the purple strain craze.

Novice smokers can be overwhelmed by this famous indica strain. Purple Urkle tastes, smells, and effects the smoker in a typical purple strain fashion. The strain should smell skunky and earthy but be cut but a sense of sweetness. Many users jump to label the aroma as tropical and fruity, with hints of grape. Users report a heavy sense of physical and mental relaxation that can be felt from the top of your head to the tip of your toes. While Purple Urkle still packs a powerful punch, those in the industry occasionally describe the strain as a daytime indica, perfect for hitting once.

However, that distinction is up for debate throughout the cannabis community. The most common negative side effects of Purple Urkle include dry mouth and dry eyes. On occasion, smokers have reported dizziness, anxiety, and paranoia.

Generally, Purple Urkle seeds are slow growing strains that produce low yields. When grown outdoors, Purple Urkle has been reported to take up to five months to flower and be ready to harvest. Purple Urkle grows much more rapidly indoors. When grown indoors, the grow time cuts down drastically to 8 weeks. Some home growers have claimed to harvest the strain, outdoors, within 8 weeks, as well. Purple Urkle plants grow bushy and short; generally, slightly below average yields are produced. Yields depend on whether the plant is grown indoors or outdoors. Indoor plants can yield up to 2 ounces while outdoor Purple Urkle plants produce a half pound per plant.