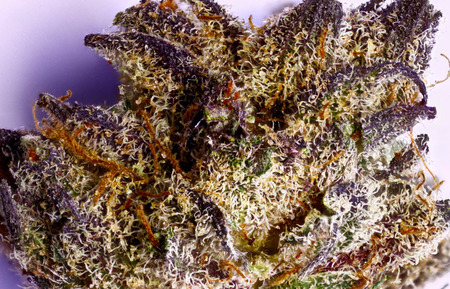 Indica
Mendo Purps x San Fernando Valley OG Kush
Blackwater Strain
Blackwater definitely does not live up to its somewhat intense connotation of a name. Characterized by a super-chill, slow-moving body high, this true indica will go a long way towards putting you to bed or gearing you up for a marathon Netflix session.
---
When you hear the name Blackwater your mind probably jumps to one of Game of Thrones' bloodiest battles, or some seriously secretive defense contracts. With such a name to live up to, a lot of smokers are surprised when they learn the reality of the Blackwater strain; this is a weighty indica with some seriously chill vibes.

Made from the breeding of California's Mendocino Purple and San Fernando Valley (SFV) OG Kush, Blackwater is best known for its crazy sticky flowers and pleasant high. In fact, the cloud-like effect of Terrapin Terpene Collective's strain won the title of 3rd Best Indica in the 2014 Cannabis Cup, trailing only Life Is Good Healing's XXX OG and Buds and Roses' Veganic L.A. Confidential.
A medium-hitting strain, Blackwater smokers enjoy a potency between 10-15% THC, sometimes even measuring up to a heavier 20%. This strain behaves like a classic indica should, leaving users feeling heavily relaxed and even a little sleepy. While a toke or two might have you feeling a little extra euphoria, the cerebral effects of Blackwater aren't particularly stimulating, making this strain an excellent choice for bedtime toking.

Blackwater's chunky buds look exactly like you'd expect from a traditional indica-- tightly packed leaves, beautifully curled in on themselves. You'll see these buds packaged in big flowers versus smaller nugs, a result of the high amount of resin helping everything stick together. Blackwater is characterized by silky dark green flowers, with the occasional tint of purple as lent by its Mendocino Purple parent. Usually, a little more purple color in seen from colder weather-bred plants, where certain color pigments are activated during growth. You'll also definitely want to use your best grinder for this strain; the big buds are seriously covered in trichomes, making them almost impossible to break apart by hand.

This particular strain has a ton of bag appeal, a phenomenon that doesn't stop when getting the first whiff. Opening the bag releases the sweet smell of berries and red grapes, the perfect match for the bud's purple color. Burning Blackwater will result in smooth, thick, sweet smoke -- but watch out; it takes a beat or two for the herbal, vaguely hashy (thanks to its Afghani lineage) smell to dissipate.

If you're ready to light up, make sure you don't have anywhere to be; the couch-lock is real with this one. A slow hitting high, users may be tempted to smoke more than usual, but be aware that just a few hits is enough to have you living room bound for the rest of the afternoon.

Blackwater can be grown as a clone, from clippings, or from retail seed. A relatively hardy plant, this strain can be grown indoors or out, provided outdoors are a relatively warm, somewhat humid climate. The stumpy, thick plants will need to be topped regularly so light and air can permeate down to the flowers, and with proper TLC you'll have a medium-sized harvest in 9 or 10 weeks.

Look for Blackwater in the pacific northwest, Colorado, and Arizona. If none of those apply, don't worry -- this popular strain should be hitting other legal states soon.