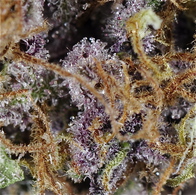 Indica Hybrid
Grape Ape Phenotype
Black Magic Kush Strain
If you enjoy cannabis like it's a glass of fine wine, Black Magic Kush is a strain worth giving a try. This magical bud looks almost as good as it tastes! Black Magic Kush is known for it's shocking green leaves and bright orange-brown hairs, as well as its rich fruity flavors. Most claim Black Magic Kush tastes slightly sweet with a touch of grape. It's most notable effects include deep relaxation, relief from insomnia, stress-relief, and anxiety relief thanks to its euphoric bump.
Medical
INSOMNIA ANXIETY PAIN
Flavor
SWEET FRUITY GRAPE
Effects
RELAXED ENERGIZED EUPHORIC
Overview of Black Magic Kush
Just as the name suggests, Black Magic Kush is an enchanting strain that will lull you to sleep at the end of the day. Like most other indica strains, it will make you incredibly sleepy, so it's not the best option for a daytime smoke or daytime pain relief. However, if you want something fairly strong that will take away menstrual cramps, muscle spasms, joint pain, inflammation, anxiety, or insomnia, let this dazzling strain can take care of it all.
Black Magic Kush has a high terpene profile, with significant amounts of myrcene, limonene, beta caryophllene, and linalool (just to name a few). By far the highest presence terpene is myrcene, which is known for producing the "couch lock" that is common in most indica strains. It is also what reduces inflammation and provides analgesic properties to the plant. The linalool reduces anxiety similar to the way lavender plants do. Ultimately, you could say Black Magic Kush gets its magic from the terpenes!
Black Magic Kush has a mysterious lineage, with only one parent strain confirmed. It comes from Grape Ape, which is an equally amazing strain. Grape Ape looks and smells a whole lot like grape, and is also an indica that is recommended for nighttime use.
One toke of Grape Ape will send you into a mystical state of relaxation, and some say it even makes you feel as heavy as a big ol' ape. Medical cannabis patients use Grape Ape to treat serious, chronic pain and insomnia. It also induces appetite, which can be important in the healing process.
Positive Effects of Black Magic Kush
Black Magic Kush is a high-quality smoking experience; it tastes phenomenal, with deep berry notes and a distinct sweet, fruity flavor. It also looks very pretty, so if you are into marijuana photography it makes a nice subject. Aside from it's head-turning looks and delicious flavor, it also provides real medical and recreational benefits that can improve your quality of life.
If you suffer from insomnia, this strain will lull you to sleep like none other! It is also excellent for unwinding at the end of the day, especially if you are the type to bring work anxiety home. It will melt away your worries and send you off to a peaceful slumber.
Negative Effects of Black Magic Kush
On major plus side to consuming Black Magic Kush is that it contains very few side effects. Most people report feeling dry mouth and dry eyes, which is typical to cannabis. If you compare opiods vs. marijuana for pain relief, those symptoms are incredibly mild!
Another negative effect is possibly the fact that it definitely encourages rest. Black Magic Kush will make you very sleepy, and used in the wrong conditions that might not be what you are looking for. It is not recommended for daytime pain relief unless you plan on staying in bed all day anyway!
Potential Medical Benefits of Black Magic Kush
Medically Black Magic Kush should be as popular as it's parent strain, Grape Ape. It provides many of the same benefits, including inducing sleep and relaxation, pain relief, reducing inflammation, easing anxiety, and stimulating appetite.
Lineage of Black Magic Kush
Black Magic Kush is 15-19% THC and 0.19-0.25% CBD. Its exact lineage is a bit of a mystery, but is the daughter of Grape Ape and produces many similar effects. It has a high terpene profile which makes it an excellent choice for health-conscious recreational users and medical users alike.
Growing Black Magic Kush
Black Magic Kush is moderately difficult to grow. It prefers a warm climate (not a hot one) and needs 50% humidity. It yields best if it is trimmed heavily and is known for being a low-growing plant that requires a lot of air circulation. It can be grown indoors or outdoors.
Where to Find Black Magic Kush
Considering Black Magic Kush has such an epic name, you would think it would be more popular. However, it's actually a pretty hard-to-find strain. It is most popular on the West Coast, particularly Southern California. It's highest area of use is probably San Diego, California, so if you're ever there doing a little cannabis tourism, it is worth checking out. Black Magic Kush can also be found in Victoria, BC.