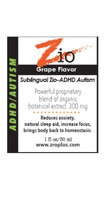 Zro + Nutraceuticals - Sublingual Zio - ADHD Autism - Grape Flavor
$120.00 ( each )
View Manufacturer Profile
Where to Buy
Description:
Powerful proprietary blend of organic botanical extract 300 mg.
Reduces anxiety, natural sleep aid, increase focus, brings body back to homeostasis.
Product consists of one (1) 1oz or 30-mL bottle of our proprietary certified organic botanical blend.
Caution: DO NOT use this product if you have known allergy to any of the product listed in the ingredient list. STOP using the product if you develop any sign or symptom of allergic reaction to the product.
Additional Information