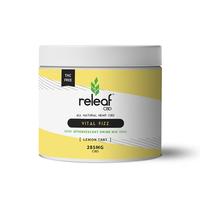 Vapor Slide - Vital Fizz - Drink Powder
$29.00 ( 1 )
View Manufacturer Profile
Where to Buy
Description:
Releaf CBD Vital Fizz is a dissolvable effervescent powder that can be mixed with water. The Natural Lemon flavor adds just the right amount of taste to your drink making it perfect for those looking to get away from the bitter taste of other CBD products. No chalky or gritty texture once dissolved and small enough to carry. Vital Fizz contains zero THC and ships to all 50 US States.
Ingredients: 100% Hemp Derived Cannabidiol (CBD), Natural Lemon Flavor Concentrate, Fructose, Citric Acid, Malic Acid, Tapioca Maltodextrin, Asorbic Acid, Sodium Bicarbonate, Food Grade Colorant.
CBD Amount: 285mg CBD per jar
Dose/Servings: 1 scoop / 28 per jar
Use: Put 1 scoop into 8oz of water. Stir then drink. Not for use in carbonated or alcoholic beverages.
Additional Information