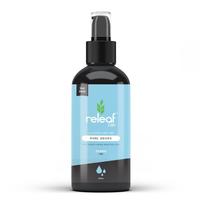 Vapor Slide - Pure Drops - Liquid Drink Mix
$19.99 ( 1 )
View Manufacturer Profile
Where to Buy
Description:
Releaf CBD Pure Drops is a dissolvable liquid that can be mixed in water, coffee, juice, sports drinks etc. Our unflavored formula is perfect for those looking to get away from the earthy taste of most CBD oils and want the portability and ease of taking CBD on the go. No chalky or gritty textures and small enough to carry. Pure Drops contains zero THC and ships to all 50 US States.
Ingredients: 100% Pure Hemp Derived Cannabidiol (CBD), Polysorbate 20, Propylene Glycol.
CBD Amount: 250mg CBD per bottle
Dose/Servings: 5 Full Pumps / 50 per bottle
Use: 5 Pumps into any beverage. Stir & Drink.
May Support: Pain releaf, anti-anxiety, anti-inflammatory, antioxidant, mental sharpness, energy.
Other Facts:
THC Free
Lab Tested
Batch Tracked (Learn More)
Dissolves quickly in liquid
Doesn't S
Additional Information