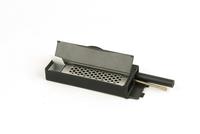 Smokits.com - Smokit 3" Black with Metal Pipe
$24.99 ( 1 )
View Manufacturer Profile
Where to Buy
Description:
Multi-hitter - Custom molded aluminum alloy pipe stores inside Smokit. Holds up to five draws and has serrated edges to make packing it a breeze.
Poker/scooper - Copper custom molded scooper tool stores inside Smokit. Poker end cleans and de-clogs multi-hitter.
Removable grinder card - Top quality stainless steel grinding surface fits directly over storage area. Doubles as flat edge tool to gather loose material.
Removable silicone container - Grade A medical silicone container custom fit inside Smokit.
Designed in the USA - Precision engineering, rubber matte finish, passes drop test and holds up to everyday wear and tear.
3.5" x 1.5" x 0.5"
Additional Information