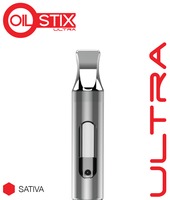 Oilstix - OilStix ULTRA Cartridge - Sativa MED
View Manufacturer Profile
Where to Buy
Description:
Our exclusive in-house extraction method starts with the highest quality strain specific cannabis.
Our proprietary mulit-stage extraction method yields pure, full spectrum cannabis oil with a full terpene and cannabinoid profile - no cutting, no refining.
Our industry leading cartridge technology features full glass, metal and ceramic construction - the wickless and rapid heating ceramic atomizer ensures incredible performance and flavor.
THC: 500.0mg