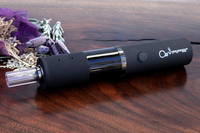 o2vape - DRYONIC II: PREMIUM DRY HERB VAPE PEN
$109.95 ( 1 )
Visit Website
View Manufacturer Profile
Where to Buy
Description:
We have been working to improve the herbal vape pen industry and taking down each issue one at a time. We are sick of hearing about herb vapes that don?t perform, have restrictive settings, break, low quality vapor. We wanted the quality of a desktop vaporizer with the portability of our original dryonic. That?s what we launched with the Dryonic II. Here are the main details but be sure to scroll down to read more about the first herbal vape pen that performs like a desktop vaporizer:
Dryonic II Product Details:
-EXACT temp. From 200*-430*. Settings allow 5* intervals.
-A huge 1200 mah battery provides up to 1 hour active usage
-Hidden OLED UI screen
-Large chamber for broad range of packing sizes
-Quartz Glass kiln heats quickly & cleans easily
-Pure vapor from top intake convection
Additional Information