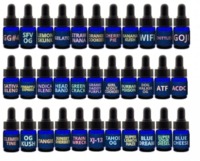 Natural Bliss - True Terpene Profiles- 38 Flavors!
$59.99 ( 2ML )
$299.99 ( 15ML )
$499.99 ( 30ML )

View Manufacturer Profile
Where to Buy
Description:
Looking to get your favorite terpene? We have all the top profiles (38 different profiles)! Don't know what to get and dont want to pay a lot to find out whats your style? Terpenes must be diluted prior to use for flavor and effect (1-5% by total volume - Ex: 2 drops per gram). Terpenes are oil soluble and mix well with plant extracts, coconut oil, and more.
Additional Information