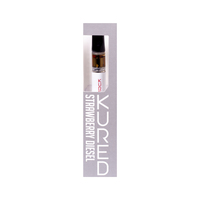 KURED - Strawberry Diesel Anytime G2 Hybrid
$41.08 ( 300mg )
View Manufacturer Profile
Where to Buy
Description:
The Anytime Hybrid is a strawberry diesel terpene infused Full Spectrum Hemp Extract Oil which is perfect for any situation to balance out any day!
KURED's 300mg disposable vaporizer pens contain 45% Full Spectrum Hemp Extract, which permits KURED to be sold at ANY non-cannabis licensed retailers throughout in the United States!
Each 300mg pen contains pesticide-free hemp extract, food-grade organic MCT oil, a small percentage of Organic Vegetable Glycerin, and botanically-derived organic terpenes.
Anytime Hybrid is the relax with some friends and or take a walk in the park with the brilliant Hybrid, Strawberry Diesel. This uplifting vape has a dank herbal aroma with a mild sweetness thanks to its terpene profile full of Linalool, A-Pinene, Humulene and Caryophyllene.
Additional Information