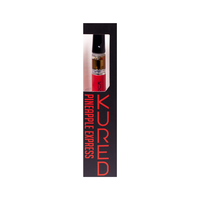 KURED - Pineapple Express Sunshine G2 Sativa
$41.08 ( 300mg )
View Manufacturer Profile
Where to Buy
Description:
This Sativa dominant terpene profile of Caryophyllene, Limonene, Myrcene, and Pinene is a great on the go get it done experience.
KURED's 300mg disposable vaporizer pens contain 45% Full Spectrum Hemp Extract, which permits KURED to be sold at ANY non-cannabis licensed retailers throughout in the United States!
Each 300mg pen contains pesticide-free hemp extract, food-grade organic MCT oil, a small percentage of Organic Vegetable Glycerin, and botanically-derived organic terpenes.
Sunshine Sativa carries the creative and energetic Pineapple Express terpenes. The high levels of the myrcene terpene gives the aromas of citrus and tropical fruit, while the woodsy caryophyllene brings a nice balance.
Additional Information