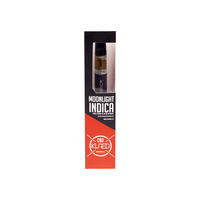 KURED - OG Kush Moonlight G2 Indica
$41.08 ( 300mg )
View Manufacturer Profile
Where to Buy
Description:
Perfect for those end of day woes and sit on the couch and unwind moments.
KURED's 300mg disposable vaporizer pens contain 45% Full Spectrum Hemp Extract, which permits KURED to be sold at ANY non-cannabis licensed retailers throughout in the United States!
Each 300mg pen contains pesticide-free hemp extract, food-grade organic MCT oil, a small percentage of Organic Vegetable Glycerin, and botanically-derived organic terpenes.
Moonlight Indica Will take you down that extra level. Blended with an Indica dominant terpene profile formulated from the same terpenes found in the famous OG Kush strain of Myrcene, Limonene, Linalool and Nerolidol. Take a break and enjoy the citrusy aroma of the Myrcene and its couch lock effects as the complex floral and lavender Linalool soothes your senses.
Additional Information