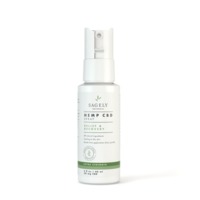 Kaliber Health - Relief & Recovery Spray
$27.95 ( 1 )
View Manufacturer Profile
Where to Buy
Description:
Packed with CBD, essential oils, and cooling menthol, Sagely Relief & Recovery Spray helps tired, stressed, or fatigued muscles and joints. The hands-free application dries quickly, making it perfect for use at the gym or on-the-go.
Our original formula was created by PhD chemists, in state of the art facilities and with premium hemp, made only in the USA.
Key Ingredients
Cooling: Peppermint & Menthol
CBD: to relieve minor aches and pains
How to Use
1. Spray 1 - 3 times onto affected area
2. On-the-go formula does not require massaging
3. Repeat daily or as needed
What to Expect
Cooling to the skin, Sagely¬?s lightweight, drying spray absorbs quickly and does not require you to massage it into your skin. It combats discomfort, leaving you feeling more comfortable...
Additional Information