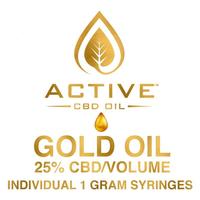 Kaliber Health - Gold 25% Active CBD Oil
$40.00 ( 1 GRAM )
$110.00 ( 3 GRAMS )
$170.00 ( 5 GRAMS )

View Manufacturer Profile
Where to Buy
Description:
If you are looking for the best decarboxylated pure gold CBD oil this is what you want!
This beautiful gold CBD oil contains no fillers, preservatives, solvents, additives and is from Non-GMO industrial hemp, where no pesticides, herbicides or chemical fertilizers were used.
All "Active CBD oil" brand oils use quality syringes that fully empty to ensure your getting every drop!
Full plant profile for "entourage effect" including CBC, CBN, CBG, CBDA, CBGA
Higher CBD content! Closer to 30% than 25% for the same price! Current batch tested at 28%.
New formula with lipids removed creates a thinner consistency - No more air bubbles - No more clogs - No more heating up making it easy to accurately dose.
Suggested Use: Dispense & ingest .05g/.05ml twice a day.
Add Active CBD oil to your foo
Additional Information