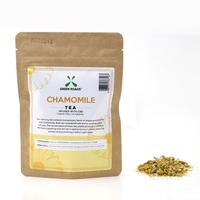 Kaliber Health - CBD Hemp Oil Infused Chamomile
$5.95 ( Single )
$39.95 ( Weekly Pack 7 )

View Manufacturer Profile
Where to Buy
Description:
We are pleased to introduce the chamomile tea you have been waiting for!
This tea will relax you and put you into a deep sound sleep for those with insomnia. Also great for a cough or a sore throat healing as it soothes. Midday, bring down your stress level with some relaxation. This CBD tea is a new take on teas!
7 day CBD oil tea pack & now single serving packs available!
This blend of chamomile and CBD is truly amazing, especially on a cold or dreary day. Simply put - this tea tastes great, works awesome, and is good for any time of day or night.
Sip for Serenity
Single Packet:
- Made with a natural blend of Chamomile, Vanilla, Peppermint, CBD and other herbs.
- 1 tea bag, 2 servings
- 7.6 mg of CBD total
Ingredients: Chamomile, Vanilla, Peppermint, High CBD hemp oil
CBD: 7.6mg