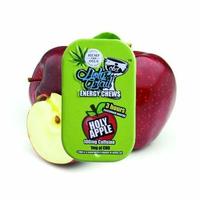 Kaliber Health - CBD Energy Chews
$9.95 ( 2 Servings )
$18.95 ( 4 Servings )

View Manufacturer Profile
Where to Buy
Description:
HolyGrail's CBD Energy Chews are the first retail product of its kind!! There is no other Energy product that will give a lift and focus like this without the crash!
Offering 100 mg of encapsulated Caffeine to give you a sustained 3-hour release combined with B Vitamins and of course 1 mg of CBD. Each tin contains two servings.
Choose from:
Holy Apple, with a slightly sour apple flavor
Holy Fire, with the perfect amount of Cinnamon flavor and a kick
Holy Hawaiian is the perfect blend of the Island featuring a Mango flavor.
Holy Ice offers a nice minty menthol flavor.
Ingredients: Corn Syrup, Sugar, Soybean Oil - Hydrogenated, Citric Acid, Salt, Soy Lecithin, Flavors - artificial, High-CBD hemp oil, Caffeine, Colors -artificial