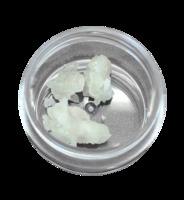 Kaliber Health - Active CBD Oil Shatter + Terpenes
$49.95 ( 1 GRAM )
$119.95 ( 3 GRAM )

View Manufacturer Profile
Where to Buy
Description:
We only use REAL hemp terpenes extracted in a state of the art hemp facility in Colorado.
Using real hemp terpenes means the most benefits can be realized and the CBD can be used to its full potential!
Please Note: Companies that carry different flavored CBD shatter are NOT using hemp terpenes, and are just adding an artificial "flavoring" with no real benefit - which can even cause problems such as tooth decay or tooth sensitivity after dabbing. This is why we choose REAL TERPS!
NEW: Every batch of Active CBD oil products are now individually tested. Check out all the batches on our Active CBD oil Test Result Page.
Ingredients:
95% - 97% Pure CBD crystals
3% - 5% REAL Hemp terps!
Additional Information